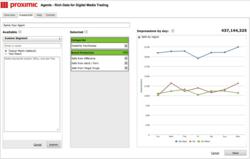 Palo Alto, CA and New York, NY (PRWEB) August 28, 2012
Proximic, an innovator of pre-bid page-level analysis and audience interest data solutions officially announced today the release of version 2.0 of its Agents Application. Customers that use Proximic for page-level analysis in their programmatic buying channels like AppNexus, or as a stand-along application now have the ability to build use Proximic data in 13 languages and can build their own custom segments using their search keywords.
The Agents Application was originally launched at the end of 2011 during the market launch of the AppNexus Apps Marketplace. Version 1.0 gave media buyers the ability to quickly add contextual targeting, pre-bid brand protection and enabled building of custom categories based on Proximic's proprietary knowledge graph. The Application updated the view of the average number of available impressions for the specific buyer, thereby allowing them to see whether or not their targeting options limited biddable inventory.
Agents 2.0 keeps this core functionality but adds a high demand feature that brings the power of Proximic data even closer to the buyer's control. Now customers of Proximic Agents can build custom page analysis segments using keywords. Buyers can use keywords from their client's search or social campaigns and simply cut and paste the keyword list into the application. Proximic then identifies relevant inventory using either its "Topical Match" or "Text Match" capabilities, the latter can also be used for negative keyword targeting. As with all Proximic solutions, the data behind Agents is driven by Proximic's proprietary knowledge graph, a non-semantic, non-linguistic analytics engine that supports the 13 languages they operate in.
"Using keywords is a very powerful addition to Proximic's Agents Application and is an area our customers have been waiting to get into their hands," said Philipp Pieper, CEO and co-founder of Proximic. "The ease of use of our application now coupled with this ability to move from search to display and build custom segments on-the-fly, gives media buyers greater flexibility to build, operate and execute custom segments for their clients in a fraction of the time."
Agents 2.0 is available as a stand-alone interface for all customers directly integrated with Proximic. Users of the AppNexus platform who are looking for content categorization and custom segment building can access the Agents App via the AppNexus Marketplace. Further integrations with other buying platforms are underway so ask your buying partner when they will have Proximic Agents on board. The application is also being made available to publishers that are looking for an objective review with insights about their inventory before they push any of their inventory into programmatic buying channels.
About Proximic
Proximic's deep page level analysis is used around the world for media planning, ad targeting and brand protection, and audience interest development. Our non-semantic, non-linguistic approach to deriving page level data allows us to deliver the most comprehensive page level analysis in the market that solves for client specific needs for contextual, brand protection and page quality. Proximic's data solutions support 13 languages with added support for Chinese coming soon. Our goal is to help our customers improve online advertising's effectiveness by delivering accurate and actionable page level data. Proximic is a privately funded company based in Palo Alto, California. For more information visit us at http://www.proximic.com.