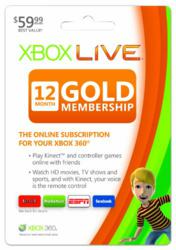 Detroit, MI (PRWEB) August 30, 2012
The Xbox Live 12-month Membership card is on sale at SportsFanPlayground.com is on sale for $39.97, marked down from $59.99, a 33% decrease.
Having the membership allows for gamers and non-gamers alike to enjoy the various features of the Xbox 360 game console. The card allows for people to enjoy the various online gaming features as well as watching media on Xbox Live such as Netflix, Hulu Plus, HBOGo, ESPN, UFC and many other forms of media. The subscription also allows for consumers to download various TV shows and movies on the Zune application.
The store also offers a new Xbox 360 headset for $.22 cents, down from $19.99. The headset allows for gamers to communicate online with people around the world while playing their favorite games.
For more information, visit SportsFanPlayground.com.
On Social Media -
Facebook - Facebook.com/sportsfanplayground
Twitter - Twitter.com/sportsfanplay
Google Plus - plus.google.com/115104847008351751780
Pinterest - Pinterest.com/fanplayground
About SportsFanPlayground.com -
The Sports Fan Playground is a leading online e-commerce provider of sporting goods from the NFL, NHL, MLB, NBA, NCAA, UFC and WWE, among other organizations and leagues around the world. The store also has a variety of electronics which range from tablets, PCs and cameras to video games, DVDs, Blu-Ray Discs, appliances, lawn and garden products and more.
The store also carries the top brands in electronics and apparel including, Nike, Adidas, Apple, Sony, Samsung, Microsoft, EA Sports, and many more. The company recently began its initial expansion into clothing and jewelry and will continue to expand over the next several months.