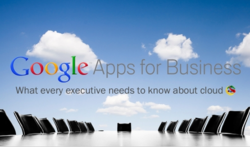 Delegating the move to the cloud to traditional IT people is like putting the crew running the boiler and steam turbine in charge of electrifying a factory. Andrew McAfee - HBR
UK - (PRWEB UK) 28 August 2012
London: Cloud computing is a sharp departure from the status quo. With cloud computing, organizations lease their digital assets in data centers that employees don't know the location of. These resources are just "in the cloud" somewhere. This, for advocates of the cloud is the number one advantage: customers rent what they need from cloud providers without worrying over details.
Andrew McAfee, in his 2011 Harvard Business Review (HBR) states that "Delegating the move to the cloud to traditional IT people is like putting the crew running the boiler and steam turbine in charge of electrifying a factory". More simply put, the CEO and other senior business executives need to take charge and accept responsibility for stepping into the cloud computing phenomenon.
According to a Microsoft only 11 percent of a company's IT budget is spent on developing new applications, the remainder goes toward maintenance and infrastructure. Today's IT department is stretched thin with maintenance activities, leaving little room for development, strategic thinking. The cloud removes these tasks from IT so they are free to act like the strategic asset they should be.
Cloud computing will increase employee productivity and satisfaction levels. As long as there is Internet in the area, work gets done. Remote and traveling personnel can easily access and edit files and systems in real time from wherever they are located. Cisco – the global company where 40 percent of employees are not located in the same city as their manager surveyed 2,000 company employees to understand the benefits of remote working. Key findings include:

Approximately 69 percent of the employees surveyed cited higher productivity when working remote, and 75 percent of those surveyed said the timeliness of their work improved.
67 percent of survey respondents said overall work quality improved when telecommuting.
An improved quality of life through telecommuting was cited by 80 percent of survey respondents.
Telecommuting can also lead to a higher employee retention rate, as more than 91 percent of respondents say telecommuting is somewhat or very important to their overall satisfaction.
Adam Upsall, Nunwood Consulting migrated its global workforce to Google Apps for Business. Why? Collaborative tools - "The geographically diverse nature of the workforce is hard to support, but when they [employees] want collaboration to replicate being in the same room as they work on the same projects I need tools/features/technology which enables that (without costing the earth)."
The cloud offers benefits at the level of the individual and the group, and of the data and the application. It enables organisations to grow the scale and power of their IT and the speed at which it can be retrieved and employed. It eliminates organizational annoyances and works across locations, devices, and organizational boundaries. Recognizing this, forward-thinking companies are embracing cloud computing in one-or-more areas of the business. Nevertheless the migration to cloud computing has been slow. Why? For many organisations, the move is tough; it forces difficult decisions regarding consolidation and standardization.
How to get started:
1. Identify restrictions and grey areas. Executives should begin by understanding as clearly as possible the risks and no-gos of the cloud for their companies and should involve their general counsels and compliance departments from the start. Be bold.
2. Run experiments with software-as-a-service. Choose a few apps and experiment. Utilise control groups (segments of the business that do not use the cloud app) and data collection.
3. Complete your next development project in the cloud.
4. Talk with your core enterprise software vendors to understand their plans for the cloud. Work closely with your company's IT department and CIO. There attitude toward cloud computing will be critical and highly revealing.
Cloud computing is here to stay, in fact it could be called a 'sea change', an IT revolution comparable to that of steam to electric power a hundred years ago.
AppsCare®, Google Enterprise Premier Partner (powered by Netpremacy Global Services) is a world leader in cloud services provisions, supporting over 2500 customers in 33 countries. Their fortnightly newsletter provides latest industry news, tips and 'how to' features and useful information about Cloud computing.
To receive a free copy of the HBR: What every exec needs to now about the cloud, subscribe to the mailing list here.
Follow @Netpremacy | Follow @AppsCare