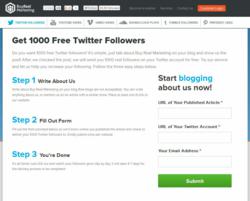 Ottawa, ON (PRWEB) August 29, 2012
Buy Twitter followers service is an in-demand social media marketing asset for small and medium businesses. The boost in the follower count has enabled ordinary people and businesses the chance to accomplish their own individual goals. And now Buy Real Marketing is giving followers away for free. The internet company specialized in social media marketing is happy to announce that they will be giving away 1000 free Twitter followers for blog owners who write good reviews about the company and its services.
With all the negative press the practice of buying Twitter followers received, Buy Real Marketing and its buy Twitter followers service had withstood the challenges and emerged to be a steel force in the social media marketing industry. Their offer of 1000 free Twitter followers is expected to make their mark stronger in the market.
Blogs are invited to submit one post following three simple steps:
1. Write anything about Buy Real Marketing.
2. Place at least one link to the Buy Real Marketing website.
3. Fill out the form provided on this web page: http://www.buyrealmarketing.com/free-twitter
Buy Real Marketing has been stepping up the game first by their 50% More YouTube views and Twitter followers in limited time offer and now with the 1000 Free Twitter Followers. "The market is ever-changing and there will always be someone or something that will bar us from accomplishing our goals of providing the internet world a remarkable online marketing experience," explains, JP Bisson, Managing Director for Buy Real Marketing. "Offering our clients more value through our promotions will help us remain on top and unshakable," he added.
The company offers social media marketing services focused on Twitter followers, YouTube views, Vimeo views and SoundCloud plays. Their customer support is available 24/7 and services are offered with a 100% Money Back Guarantee, which time and again proves their mantra of giving only the best quality to offer clients.
To know more about the company's services, visit their website at http://www.buyrealmarketing.com or contact them at 1-877-435-5955.
About
Buy Real Marketing is owned by Clicking Labs. Clicking Labs is a well established internet marketing company founded in 2010 by Jean-Patrick Bisson, Diana Quartin and Jonathan Kennedy. The company specializes in driving search marketing and social media traffic, social web app development and conversion optimization. Each product or service specifically helps small/medium website owners increase online visibility and improve online sales.
###