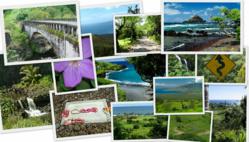 Named as one of the top 50 fastest growing small businesses in all of Hawaii between 2009 and 2011, they are also the first tour company on the list in 18 years!
Maui, Hawaii (PRWEB) August 28, 2012
Hawaii is a very desirable destination but Maui is even more so. Not just according to the readers of magazines like Conde Nast (year after year), but to nearly everyone who dreams of a sun, sand and island vacation. The Valley Isle has been surpassing it's neighboring islands easily in terms of hotel occupancy and desirability. Over the past several years, vacationers have been choosing Maui over many other "Island & Sun" destinations across the globe. Out of 38,000 hotel properties in it's destination category, Maui's hotels have ranked third highest in terms of occupancy and only 2nd to the Maldives in terms of revenue-per-room. Maui's hotel occupancy rate for the first half of 2012 is 74.1 percent, up 2 percent over the first half of 2011.
Vacationers are choosing to visit Maui again and again for several reasons; it's abundance of natural beauty, assortment of land and water activities, impeccable restaurants, world class shopping and of course, the most important reason, to experience the "Aloha".
Out of all the things to do in Maui, one of the top Maui activities on vacationers' bucket lists is to be immersed in the incredible scenery that's found on a journey to Hana. The historic highway winds along Maui's northern shore through the largest drivable rainforest in the USA. A day trip will take a visitor over numerous small bridges, past waterfalls, under beautiful trees with colorful flowers to a small village that retains a very classic Hawaiian feel. Go beyond Hana's famed Pools at Oheo to experience the incredible variety of Maui's landscapes, if your rental car agreement allows.
Many vacationers demand the entire Maui experience and after traveling thousands of miles out to one of the most beautiful islands in the world, they deserve to see it all and that's where Valley Isle Excursions outshines the rest.
Since 1997 Valley Isle Excursions has been providing Maui tours to Hana and over the past few years they have experienced incredible growth. Named as one of the top 50 fastest growing small businesses in all of Hawaii between 2009 and 2011, they are also the first tour company on the list in 18 years! Could there be any better way to attest to their commitment to providing the best experience of the one activity that's on the top of everyone's "must do" list when they visit Maui? Probably not.
In March, Valley Isle Excursions reported an ever growing demand for their tour. They responded by bringing in more eco-friendly vans and increasing the number of guides-in-training. Hawaiian airlines had increased their seating capacity and Maui hotel rooms were being occupied at higher rates but that growth was still in the single digit percentages over the previous year. Valley Isle Excursions experienced growth of almost 100% over the previous year.
Along with bringing on a web marketing specialist to increase web exposure and develop a strategy for spreading aloha and helpfulness online that directly mimics what the guides of Valley Isle Excursions do everyday on the road to Hana. No matter who is on the road, every Valley Isle guide is a Maui ambassador, ready and willing to lend a helping hand and spread the Aloha for which Maui is known. Maui No Ka Oi!
Aloha Nui Loa
Valley Isle Excursions
http://www.tourmaui.com
(877) 871-5224