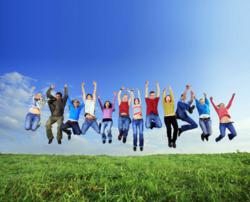 Unique employee motivation software available now in France and Benelux
London, UK (PRWEB UK) 29 August 2012
Hot on the heels of expansion in the German market, Motiv8, the cutting edge contact centre employee motivation business, has expanded operations into France & the Benelux Region.
"France, Belgium, Luxemburg and the Netherlands represent 4 important Northern European business centres with many hundreds of thousands of agents employed in the contact centre industry" said Eric Ignoul, Call Centre Expert for a number of different investment Companies including GIMV (Gewestelijke Investerings Maatschapppij Vlaanderen) and Managing Director of the Call Centre division of Symonn nv : "European Agent" . The company exclusively licenced by Motiv8 for this territory.
Ignoul, an entrepreneur with a track record of considerable success in the contact centre industry throughout this region plans to make the innovative reward and recognition software available from Quarter 4, 2012 and has already recruited expert resources to spearhead the sales operations in this territory. Eric was previous owner of the largest Belgian Call Centre and worked together with Supporter, a large French Call Center player. He also had Contact Centres in the Middle East (Cairo) and distributed Supportsoft software for call avoidance and call reduction time (a Redwood City based Nasdaq listed company).
"Motiv8 are entering this market at the ideal time" say Ignoul, "For too long contact centres have relied upon systems improvements to drive productivity and the combination of restricted capital budgets and limited new technical innovation, means that operators across Europe are increasingly focusing on improving the contribution made by their employees. Employee motivation and productivity improvement is where it is at now and I think for some years to come and the centres that are able to motivate their agents and make the workplace more stimulating, fun and interesting will be the winners"
Dan Gray, Commercial Director at Motiv8 commented, "We think we have found the perfect partner in Eric and his business to help us access the Benelux and France. Eric has a wealth of relevant experience, understands the importance that motivated employees have on a successful contact centre and will I am sure make a huge success of the business next year. We are already working on local language versions of the product and will be implementing the product in ".
The launch of Ultra Low Cost Reward last month now means that Eric and his team will be able to offer contact centre operators the most innovative and cost effective reward mechanic in the world. No other system enables managers to reward agents with tiny sums and achieve better levels of motivation and staff engagement than using traditional systems requiring ten times the budget.
Motiv8 is dedicated to improving contact centre employee morale and making often mundane jobs more exciting and interesting and in so doing, improving the productivity of their employer. They are based near Heathrow Airport, London. 6-9 The Square, Stockley Park, Uxbridge, UB11 1FW, 020 3008 5418.
Eric Ignoul.
00.32.472.606060.
Symonn nv.
Runksterkiezel 48
3500 Hasselt.
Belgium.
Eric(dot)ignoul(at)skynet(dot)be
"European Agent"
a division of Symonn nv.