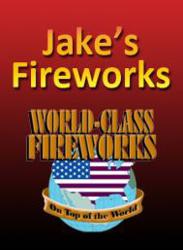 JOPLIN, Missouri, (PRWEB) August 28, 2012
Jake's Fireworks of Pittsburg, Kansas has been chosen to host the 2012 National Fireworks Association (NFA) Trade Expo, taking place September 5-8 at the Holiday Inn and Convention Center and Residence Inn by Marriott in Joplin, Missouri.
More than 1,000 people are expected to descend on Joplin for the event, which will include four days of displays, seminars, meetings and product demonstrations from manufacturers, importers, wholesalers and retailers from across the United States, China and other countries. The NFA is an organization that represents individuals and companies dedicated to the safe use of fireworks.
The Expo will feature more than 100 booths offering product displays, and is open to the public.
Nightly fireworks demonstrations will take place at Joplin's Schifferdecker Park, demonstrations will be open to the public Thursday, Friday, and Saturday. Jakes Fireworks CSO Mick Marietta will present a seminar titled "Retail Layout and Upselling," and Jake's Fireworks will be presenting a demo fireworks display on Friday, September 7.
The NFA will feature competitions with consumer fireworks, and a professional fireworks show September 8, beginning at dusk.
The National Fireworks Association, the second largest national pyrotechnics organization in the U.S., was formed in 1992 and has a goal of protecting the rights of individuals and companies to utilize and enjoy fireworks with safety being a key concern. Members of the NFA can be found throughout the world.
For more information, visit http://www.JakesFireworks.com.
About Jake's Fireworks:
For 60 years, Jake's Fireworks has been a fixture in the Pittsburg, Kansas community and regarded as a leading distributor of wholesale and retail fireworks in the U.S., providing services that include standard distribution of World Class fireworks, private label and bulk container orders. With nine distribution centers and more than 250 retail outlets nationwide, Jake's Fireworks is known in the industry as an innovator in consumer fireworks product development.
Jake's Fireworks is an enthusiastic supporter of fundraising opportunities, operating its retail fireworks locations for individuals and organizations during peak retail fireworks seasons.
For more information, visit the Jake's Fireworks website at http://www.JakesFireworks.com.
###