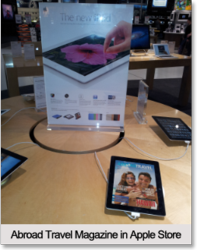 Abroad Travel Magazine is designed to provide travel enthusiasts cutting edge travel information from travel experts around the world
(PRWEB) August 28, 2012
Abroad Travel Magazine has announced the release of their debut issue this week. With the launch of the magazine, readers are able to enjoy the impressive new interactive features of this magazine exclusively built for the Apple iPad.
With the aim of offering consumers a greater reading experience, the magazine combines a blend of fun and informative feature stories, with a variety of interactive elements. The magazine plans to keep readers interested by offering readers a mix of high quality exotic photos, colorful stories, video highlights, and clickable links.
The story behind the growth of the iPad is mind-boggling. According to Apple's CFO, Peter Oppenheimer, "sales are on fire, and Apple has sold a total of 67 million iPads since the original tablet's release two years ago". By comparison, it took 24 years for Macs, five years for iPods, and three years for iPhones to reach 67 million in sales.
Of course, with all this phenomenal and explosive growth comes great opportunity for applications and content developers. One such application is Abroad Travel Magazine, which was specifically developed to take advantage of the newly released Apple Newsstand. Available on iPads running iOS5 or higher, Newsstand magazines fully engage readers with their interactivity, and are totally changing the way consumers read magazines to digest information. The Newsstand also enables a person to subscribe and download magazines, which are automatically updated when a new issue is released.
Abroad Travel Magazine is designed to provide travel enthusiasts cutting edge travel information from travel experts around the world. In addition, readers can quickly learn inside tips and secrets that will make their next travel experience pleasurable and hassle free; while also learning how to save on flights, uncover essential travel tips, read interesting stories, listen to exclusive interviews and discover amazing and often hidden travel destinations.
In addition to the feature articles written by travel experts, the magazine offers a "Readers Corner" section featuring real-life stories and photos from everyday readers. Each month the Readers Corner includes a "Where in the World?" photo quiz that is a great way to test one's travel knowledge. Readers are also sure to get a few laughs from the "Embarrassing Moments" section, and there is also a "Did You Know?" section featuring all sorts of interesting facts about other countries and cultures. The application was designed with reader comfort in mind and is easy to navigate with just a tap or slide on the screen.
To celebrate the launch of the first issue, Abroad Travel Magazine is offering a free 30-day trial with every subscription. Simply click the link now to take advantage of this special offer:
http://www.abroadtravelmag.com/app
About Abroad Travel Magazine
Abroad Travel Magazine is a brand new exciting, entertaining and informative travel magazine made available via the Apple iPad Newsstand. With a blend of amazing photos, stories, and video; the magazine brings cutting edge travel information from travel experts around the globe.
###