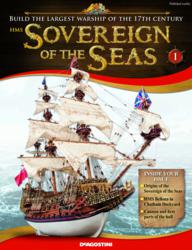 The project gives readers the opportunity to become real model shipwrights by following a series of step-by-step tutorials.
(PRWEB) August 29, 2012
DeAgostini are launching a new magazine on the 27th of August to give both first time and long time model ship building fans the chance to build the largest warship of the 17th century, the Sovereign of the Seas.
The Sovereign of the Seas was commissioned by Charles I in 1634, a vast warship aimed to bolster the reputation of the English crown and enhance the king's political standing. 127ft in length and with 100 guns of various weights, this fully rigged ship was an extravagant symbol of England's political dominance on the seas, and saw battle in all of the great English naval conflicts of the time – it was even nicknamed 'The Golden Devil' by the Dutch. DeAgostini are now giving fans a chance to rebuild this magnificent vessel as part of a 135-part weekly magazine, also available through subscription.
As well as teaching a storied history of ship design, the project gives readers the opportunity to become real model shipwrights by following a series of step-by-step tutorials. Readers will learn to do fine detailed crafting work and also understand the rich history of model ship building.
All of the tools and parts needed to build a 1:84 scale model of the Sovereign of the Sea will be provided with the magazine. The instructions and diagrams will be easy to follow in DeAgostini's signature photo illustrated style. Issue 1 comes with the cannon and parts of the ship's hull, and Issue 2 comes with an assembly jig and the rib frames for the hull and cannon.
Model ship fans will be able to subscribe to as many issues as they like with no obligation. DeAgostini will also periodically send out bonus free gifts to subscribers. Those with a subscription can look forward to receiving a free mitre set, illustrated binders to organise their magazines, a set of mini clamps and a mini rotary tool kit, all to ensure that they have every tool they need to build their model to perfection. Subscribing is also a great way for readers to ensure that they never miss an issue.
Tall ships are not just a 17th century curiosity. Their elegance and skilful construction attracts new hobbyists all the time, whilst fans gather in their thousands to see real, working contemporary tall ships race in events such as the Tall Ship Race, which takes place annually across several seas in Europe. Meanwhile, the market for home model building remains strong, as DeAgostini have proved with the success of their Model Space stable of racing car and ship partwork series.
The Sovereign of the Seas series will also have a dedicated Facebook and Twitter community as a place for readers to discuss model building tips and tricks, as well as share news and trivia. Readers can join in the conversation at http://www.facebook.com/modelspaceUK and https://twitter.com/model_space.