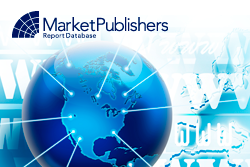 London, UK (PRWEB) August 28, 2012
With the reforms in place already, the growing wind power capacity in South Korea is expected to take the fast track to further expansion. To augment the rapid growth of wind energy in the country, the domestic heavy industries have taken upon themselves the onus of manufacturing the wind turbine generators that will reduce the sector's dependence on imports and will also result in the reduction of wind energy production costs. The Feed in Tariff policy of the government has now been replaced by the Renewable Portfolio Standard.
New market report "South Korea Wind Power Sector Analysis" elaborated by Kuick Research has been recently published by Market Publishers Ltd.
Report Details:
Title: South Korea Wind Power Sector Analysis
Published: August, 2012
Pages: 80
Price: US$ 1,000.00
http://marketpublishers.com/report/industry/energy/south_korea_wind_power_sector_analysis.html
The research report offers a detailed analysis of South Korea's wind energy market, investigating into all the necessary facets required to bring about an organized wind power growth. The study details the targets and gives precise plans of the government to achieve these ambitious renewable energy targets and how exactly the country will go about the Low Carbon Green Growth Policy in the coming years to develop its most abundant resource.
Key companies mentioned include: Hyundai Heavy Industry, Samsung Heavy Industry, Daewoo, Shipbuilding & Marine Engineering, Doosan Heavy Industry and Construction, Unison, Vestas Wind Systems, and Korea Electric Power Corporation.
Report Contents:
1. South Korea Wind Power Sector Landscape
2. Wind Power Resources
2.1 Onshore & Offshore Reserves
2.2 Onshore & Offshore Wind Map by Speed & Density
3. Wind Power Sector Indicators
3.1 Onshore
3.2 Offshore
4. Operating Wind Farms
4.1 Onshore Wind Farms
4.2 Offshore Wind Farms
5. Wind Power Feed in Tariff Structure
6. Wind Turbine Manufacturing
7. Emerging Trends
7.1 United Kingdom and South Korea Alliance for Offshore Wind Power
Development
7.2 Rising Investments from Government & Private Sector
7.3 Focus on Clean Energy to Drive Wind Power Installation
7.4 Development of World's Largest Offshore Wind Farm
7.5 Super Sized Ships to Install Offshore Wind Turbines
7.6 South Korean Companies Developing Foreign Wind Farms
8. Wind Power Future Outlook
8.1 Onshore
8.2 Offshore
9. Regulatory & Policy Framework
9.1 Low Carbon, Green Growth Policy
9.2 Renewable Portfolio Standard Energy Policy
10. PEST Analysis
10.1 Political Analysis: Government Investments & Knowledge Sharing Policy
10.2 Economic Analysis: Low Cost Wind Power & Rising Energy Import Bill
10.3 Social Analysis: Increasing Social Acceptance
10.4 Technology Analysis: Transfer of Technology & International Collaborations
11. Competitive Landscape
11.1 Hyundai Heavy Industry
11.1.1 Business Overview
11.1.2 Turbine Portfolio
11.2 Samsung Heavy Industry
11.2.1 Business Overview
11.2.2 Turbine Portfolio
11.3 Daewoo, Shipbuilding & Marine Engineering
11.3.1 Business Overview
11.3.2 Turbine Portfolio
11.4 Doosan Heavy Industry and Construction
11.4.1 Business Overview
11.4.2 Turbine Portfolio
11.5 Unison
11.5.1 Business Overview
11.5.2 Turbine Portfolio
11.6 Vestas Wind Systems
11.6.1 Business Overview
11.6.2 Turbine Portfolio
11.7 Korea Electric Power Corporation
...
More new market reports by the publisher can be found at Kuick Research page.