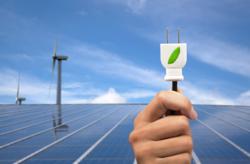 ...the overall effectiveness of domestic solar panels is still beyond doubt.
(PRWEB UK) 29 August 2012
As of the 1st August 2012 the amount consumers receive via the feed-in tariff for the production of electricity through solar panels has dropped from 21p/kWh to 16p/kWh on the higher rate tariff. This means that the amount of income a homeowner can receive for generating electricity via domestic solar panels has dropped marginally. The feed-in tariff is a government scheme created as a means of support for homeowners who chose renewable energy resources for their homes. Homeowners who qualified for the higher rate prior to the feed-in tariff drop on 1st August 2012 don't need to worry however, as the feed-in tariff is secured for the next twenty five years.
But why was the tariff cut? The government were forced to withdraw it earlier than expected due to the rate being so desirable, leading to an unexpected uptake of the scheme. This meant that the funds they had originally budgeted for the scheme were exhausted much quicker than expected.
Although in the short term it is likely to mean slightly fewer solar panel installations, the overall effectiveness of domestic solar panels is still beyond doubt. They are still an excellent long term green solution for homeowners to generate renewable energy at home, reducing energy bills and reducing their carbon footprint. Over 250,000 homeowners already have solar panels installed, and if the UK wants to meet its targets for reducing carbon emissions by 80% by the year 2050, this figure should continue to rise.
Aside from the obvious environmental benefits; they are still an excellent economic solution despite the rates being cut, due to the cost of installation falling. The cost of solar panel installation has dropped from around £10,000 just a few years ago to as low as £2,500 in some instances, whilst still allowing annual profits of £473 to be generated. Also, opposing the feed-in tariff, the export tariff has increased from 3p/kWh to 4.5p/kWh – which is the rate paid for excess electricity produced that is transported back to the grid. Furthermore, with the current economic situation and fluctuating energy prices, homeowners with solar panels will be affected less by price rises allowing them to be more self-sufficient, producing up to half of their energy themselves.
The conclusion is that although the drop in the feed-in tariff has meant a short term reduction in the number of solar panel the financial benefit of having solar panels still outweighs this. Lower installation costs mean a smaller initial investment, which in turn allows a quicker return on investment for more homeowners. Solar panels are still a reliable source of income, reduced energy bills and have excellent long-term environmental benefits.