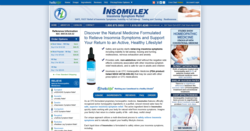 "Sleep is far too important to ignore"
Grand Rapids, MI (PRWEB) August 28, 2012
In August 2012, HelloLife released Insomulex, a new formula that safely and quickly starts relieving insomnia symptoms.
Insomulex provides safe, non-addictive relief without the negative side effects commonly associated with other insomnia symptom relief medications including inability to fall asleep, tossing and turning, restlessness, nervous exhaustion, and anxiety.
"Well over a third of the American population suffers from insomnia," said CEO and President Albert Duoibes. "We understand the how and the why behind it, but what we really care about is getting people to sleep safely and having them wake up refreshed."
"Sleep is far too important to ignore," continued Duoibes. "It is so easy to lose sight of how important it is when you are caught up in the requirements of daily life. Insomulex can help facilitate those healthy lifestyle choices that need to be made to keep pace."
HelloLife, LLC is an Applied Life Science and Technology company doing business in the fields of health and wellness. The company operates under Good Manufacturing Practices (GMPs). These are strict, federal manufacturing processes of products for human consumption, such as drugs, dietary supplements and food. GMP standards allow total documentation of all processes, from production to distribution ensuring consistency and high quality.
HelloLife is committed to providing safe relief, nutritional support and education for healthy lifestyle choices. Its headquarters are located at 4460 – 44th St. SE, Ste. C 600, Grand Rapids, MI, 49512. Our products are available to consumers via retailers, health care professionals and direct mail. For more information about the company or our products, visit our website at: http://www.hellolife.net.