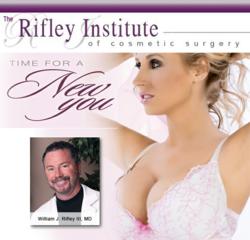 Las Vegas Breast Implants Specialist Says Patients Need To Do More Research
Las Vegas, NV (PRWEB) August 28, 2012
Las Vegas plastic surgeons have been ranked as some of the best in the world, which is no surprise for a city Foursquare names in the "Top 10 Most Beauty-Obsessed Cities." Las Vegas escorts, showgirls, cocktail waitresses, entertainers and even the average soccer mom live in one of the most competitive environments where looks matter. However, due to the national recession and tighter budgets, many Americans who use to choose Las Vegas are going abroad in hopes of saving money. Patients returning stateside with challenges or complications are finding out it would have been more affordable to stay in the USA.
Dr. Rifley, Founder of the Rifley Institute Cosmetic Surgery in Las Vegas, says that there is a rise in the amount or corrective surgeries being performed in the states. Rifley has been the Chief of Plastic Surgeon of Two medical facilities in Las Vegas for a combined 20 years and has performed over 20,000+ surgeries. He says the best thing any patient can do before flying to a "Medical Destination" such as Mexico is to seek out a specialist in there own city or country for a consultation. Rifley has started to offer free consultations at his own center along with in-house financing to assist prospective patients in getting Las Vegas breast implants who otherwise would have gone abroad.
The American Society of Plastic Surgeons (ASPS) says that patients need to do more research before undergoing plastic surgery. The conclusion was based on the results of a poll of 617 cosmetic or reconstructive surgery patients which revealed a large percentage of patients having regrets about not learning more about cosmetic surgery side effects before undergoing the surgery. Rifley says that while most procedures can be corrected it's the ethical and Legal complexities of medical tourism in counties like Mexico that leave patients no recourse for financial damages.
Rilfey cites he is not singling out Mexico and states they have a reputation for world-class surgeons, however, too many Americans go to Mexico without making sure their surgeon is certified by the Mexican government or don't make sure medical devices and implants are approved by the U.S. Food and Drug Administration, which requires stringent testing before allowing their use. The trend for Medical Tourism is growing, fueled by word of mouth and slick Internet sites advertising cut-rate prices, but so is the increase in corrective surgery and repair.
Rifley who is a recognized breast augmentation Las Vegas specialist and uses the subfascial method for breast implants which has all benefits of sub-muscular, and sub glandular, at the same time, minimizing the complications of the old fashion techniques. Rifley encourages prospective patients to educate themselves, get a free consultation and consider Las Vegas before Mexico. Vegas normally has the lowest airfair with Alliant Air averaging $200 round-trip and options for resort package. Dr. Rifley can be reached with any questions or concerns regarding Las Vegas Cosmetic Surgery at 1-702-242-4616 or get a free consultation by visiting http://www.RifleyInstitute.com