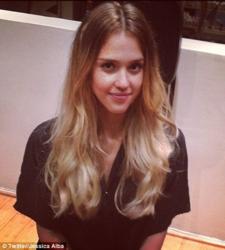 TheHairStylerOnline.com has created a new virtual tool that allows anyone to try on Jessica Alba haircuts.
Houston,TX (PRWEB) August 28, 2012
According to TMZ, Jessica Alba's been hard at work being a Hollywood mom and prepping for the follow-up to the 2005 cult hit "Sin City." The latest thing checked off her to-do list? Taking the ombre plunge.
To revive her stripper role in the upcoming "Sin City: A Dame To Kill For," Jessica had to go back to blonde. Luckily, the 31-year-old actress took to Twitter to document the annoyingly lengthy process of going ombre. "Bye bye brown hair," she tweeted along with a photo and video to say goodbye to her darker locks.
The HairStyler Online has created a new virtual tool that allows anyone to try on Jessica Alba hairstyles. In addition, users are able to view themselves with over 6,000 hairstyles, 50 colors, 35 highlights and makeup.
Click Here To Try On Jessica Alba Haircut Yourself
TheHairstylerOnline.com is an innovative hairstyles website that enables users to test out thousands of hairdos in a variety of categories. They can choose from casual, formal, alternative, celebrity, salon and men's to get an instant picture of how they would look sporting a new cut, style or color. The hairstyling tool produces realistic, high-quality photos that can be viewed online, printed out or emailed.
To create different hairstyles, users simply upload their photo or use the model's photo and then select a hair color and a highlight color. There are 50 hair colors and 35 highlights available, creating endless possibilities for different hairstyles. Users can try short, medium and long lengths, as well as straight, wavy and curly hairstyles to produce completely personalized results.
With its fresh approach to virtual hairstyling, TheHairstylerOnline.com has become quite popular with both women and men. For example, Vicki from the United States had this to say: "Your website is great. It really opened my eyes to what hairstyles I should have and the ones I shouldn't!"
Website users can enjoy demos, feature articles, product reviews, blogs and a monthly newsletter with the latest hairstyles, tips and information. They can also use the "Ask A Professional" option to receive real advice from real stylists. Or they can review the "Style Trends" section to see some of the latest hairstyles being worn by celebrities like Jessica Alba and many others.
Visit http://www.thehairstyleronline.com/jessica-alba to try on Jessica Alba hairstyles.