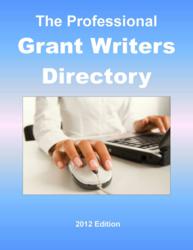 This isn't just a compiled list of known freelance writers and companies, they actually want to hear from you.
Los Angeles, CA (PRWEB) August 28, 2012
In times when budgets are being cut so drastically, businesses, departments, and nonprofit organizations alike may not have the resources necessary to employ a full or even part time professional grant writer.
Grant Central USA urges these organizations not to fall victim to wasting valuable personnel resources on submitting proposals written by inexperienced staff.
Instead, Grant Central USA has created a database on their grant writing online course website that has been designed with those in mind who are seeking professional grant writing services. This directory offers over 80 professional grant writing contacts, from freelance to LLC's, each with their own areas of expertise. Freelance grant writers and companies are encourage to visit the Professional Grant Writers Directory as well, to find out how they can be placed on the list and gain more exposure.
Visitors of the online grant writing course website can use this directory to make the necessary contacts to find the professional grant writer that best aligns with their mission and their cause. When making the initial contact, Grant Central USA encourages the seeker to inquire into what their areas of specialty are when it comes to grant writing as well to mention that they were referred to them by Grant Central USA, which may lead to a special offer.
"This is a unique directory in that these professionals have asked to be placed in it, and thus are eagerly awaiting any referrals from us," says Danika Thompson of Grant Central USA. "This isn't just a compiled list of known freelance writers and companies, they actually want to hear from you," adds Thompson.
About the Company
Grant Central USA is a leading provider in the grant writing training industry offering both in-person and online grant writing classes. The company is based in Pasadena, CA and serves individuals and organizations nationwide to do a better job in writing grants that get funded. For more information visit GrantWritingOnlineCourse.com or call 1.888.293.0284.