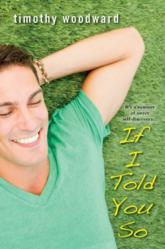 Nothing that they had read up to this point had any meaning for them. And in some way, kids that age really need to be able to see themselves in the books they pick up.
(PRWEB) August 29, 2012
First-time author Timothy Woodward—whose novel If I Told You So was released on August 28—didn't set out to catch the wave in one of publishing's hottest new segments. He was teaching English in a couple of tough Massachusetts vocational high schools, and some of his students couldn't forge a personal connection to anything on the regular reading list. Woodward saw a gap on that list, and he set about to fill it.
"In general these were kids who didn't enjoy reading," Woodward said. "Nothing that they had read up to this point had any meaning for them. And in some way, kids that age really need to be able to see themselves in the books they pick up."
One segment of that population was excluded not only from the reading lists, but from full social membership in the life of the schools. "There were gay students at both schools, and these were not friendly environments for them," Woodward said. "So I did some things in the political arena—served on the board of Greater Boston PFLAG [Parents, Families, and Friends of Lesbians and Gays], started a gay/straight student alliance at one of the schools, got some policy initiatives started."
At the same time he was doing something in the literary arena. He had grown up in New Hampshire and then gone to the University of Southern California to learn film making. There, however, he found that he enjoyed scriptwriting most of all, and after his graduation in 2001 he came back East more interested in words than film as a medium for storytelling.
While he taught in those vocational schools, Woodward was also working on the Master's in Education he would need to keep his teaching certification. "But then they changed the regulations," he said. "Suddenly your Master's could be in a field related to your subject matter."
In 2006 Woodward was a member of the inaugural class of Southern New Hampshire University's low-residency MFA Program in Fiction and Nonfiction. Another student in that class, Lynn Safford, told Woodward stories about a summer job she had once working in an ice cream shop on New Hampshire's Lake Winnipesaukee. Woodward used those stories as the seed for his MFA thesis—which became this novel, a young-adult story of a gay teenager's coming out and coming-of-age during a momentous summer on that famous lake.
A couple of years after Woodward's graduation in 2008, serendipity intervened. He attended a charity auction for Greater Boston PFLAG, and—"Only to drive the bidding up," he said. "I didn't mean to win."—he bought an unusual item: the privilege of being portrayed as a character in a novel by Suzanne Brockmann.
Brockmann is the best-selling author of several series of romance and romantic/suspense novels. She is the mother herself of a gay son, and one of her series—Troubleshooters—features a CIA agent who is gay. "I ended up giving my character rights away to a friend, but someone told Suzanne that I was a writer, and she asked me what I was working on," Woodward said. "We talked about my book, and eventually she asked me if she could send the manuscript to an agent friend of hers."
That was Deirdre Knight of the Knight Agency. She in turn shared the novel with John Scognamilio of Kensington House, who loved the manuscript's wit, compassion, and storytelling chops. Its genre and subject matter were pluses as well.
"When I was teaching in Massachusetts, there were maybe half a dozen people out there writing young-adult LGBT [Lesbian/Gay/Bisexual/Transgender] fiction," Woodward said. "Now, because of the social issues, gay marriage, celebrities coming out, there are more and more all the time."
In 2010—after winning $100,000 as a contestant on Who Wants to Be a Millionaire?—Woodward set out for a new life on the West Coast. But once he got to Las Vegas, he found a vibrant community with a lot of low-priced homes on the market. He poured his contest winnings into a home there and now works for the MIND Research Institute, a nonprofit company producing math education software.
Woodward remains involved with Southern New Hampshire's MFA community, and has dedicated his novel both to his mother and to Lynn Safford, who died of cancer in 2010. "We couldn't be more pleased about Tim's success," says SNHU program director and novelist Diane Les Becquets. "He's a regular and generous presence on our Facebook page and a personal inspiration to all our current students and alumni."
Meanwhile some early reviews of If I Told You So have hit the marketplace. "Woodward's debut is a soapy, feel-good read," says Kirkus Reviews. Instinct says that "the tone is so hopeful, charming, and moving that it's a delight for any young gay and/or the most jaded queen."
And some pre-publication copies have found their way into the hands of people posting reviews on Goodreads.com. "Step aside Rainbow High books. There is a new contender in LGBT YA lit!" writes one reader. "Timothy's novel captures the essence of coming of age in a small New Hampshire Lakes Region town. As a matter of fact, at times this novel so echoes my family's experience that it is eerie; he's written something true here. I cannot wait to recommend this book to my school's librarian."
And for Woodward, a book like this on the shelves of school libraries, and in the hands of LGBT teenagers looking for something of themselves on the written page, was exactly the point.
# # #