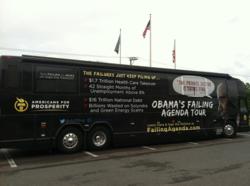 Obama's Failing Agenda tour will give voice to millions of Americans who oppose the policies of this administration.
TAMPA, Florida (PRWEB) August 28, 2012
Americans for Prosperity, the nation's leading advocate for economic freedom with over two million members, today announces the launch of its largest-ever tour featuring three 40-foot coaches crisscrossing the nation. The tour, titled Obama's Failing Agenda, will kick off in Florida and visit some 380 cities in 25 states holding rallies and special events that highlight the failing policies of President Obama.
One of AFP's fully-wrapped coaches will be on display at various locations near the Republican National Convention center in Tampa this week, in preparation for the official tour launch on Friday, August 31.
"We're launching our biggest tour yet because President Obama's big-government agenda has brought four consecutive trillion dollar deficits, sent the national debt skyrocketing, and left nearly 13 million Americans unemployed." said Tim Phillips, President of Americans for Prosperity. "It's time for an agenda that will lead all Americans to prosperity; this failing agenda must come to an end."
Obama's Failing Agenda tour will feature elected officials, national personalities, and other champions of free-market enterprise who will educate citizens on President Obama's failing agenda, and rally the grassroots to put pressure on politicians who support destructive big-government policies.
Rally attendees will also be given the opportunity to use AFP's Freedom Phone System, an impressive high-tech dialing system they'll use to educate their family, friends, and neighbors. The tour includes educational information and a petition addressed to the President for citizens to fill out. Tour details will be posted and frequently updated at http://www.FailingAgenda.com
The Failing Agenda bus tour is an issue advocacy effort by Americans for Prosperity and does not advocate for the success or defeat of any candidate for public office.
For more information or to schedule an interview, please contact Levi Russell at (703) 224-3200.