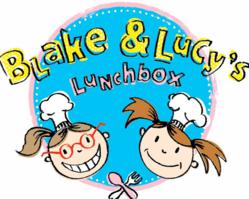 We've had so much fun, we've met some really nice people, and we'll definitely be back next summer!
Concord, NH (PRWEB) August 28, 2012
Nine-year old twin sisters Blake and Lucy Licata may be the youngest entrepreneurs in New Hampshire—but while their resumes lack business experience, the girls are no strangers to the food industry. The sisters that own and operate Blake & Lucy's Lunchbox are the fifth-generation of Blake's All Natural Foods, which has been in the business of producing quality organic and natural food since 1929 and the heyday of Blake's Turkey Farm.
Since June, Blake & Lucy's Lunchbox has been serving healthy, delicious lunches to-go from Newbury Harbor using some of the best local food New Hampshire has to offer. A typical lunchbox includes a chicken salad sandwich made with Blake's chicken salad from Concord, NH and served on a fresh roll baked by Demoulas Market Basket in Concord, NH, White Mountain Kettle Corn from Henniker, NH, Willaway Chocolate Chip Cookies from Hopkinton, NH, and a bag of fresh baby carrots.
"We've had so much fun, we've met some really nice people, and we'll definitely be back next summer," says Blake. "It's been so fun to watch the people on the beach enjoying our healthy lunches," adds Lucy. "Thank you to the Town of Newbury for a great summer!"
After a successful first summer in the food business the girls are excited to make a donation to a charity close to their family's heart, The Molly Fund (http://www.mollyrowlee.org).
The Molly Rowlee Fund at Dana Farber Cancer Institute and Children's Hospital in Boston provides assistance to children undergoing treatment and their families, especially those in need. The donation from Blake & Lucy's Lunchbox will be used to assist families with expenses that directly affect their well-being and make an immediate and positive impact in the lives of pediatric cancer patients and their families.
For more information on Blake and Lucy's Lunchbox, find and "Like" them on Facebook.
###
Blake's All Natural Foods is a 4th generation family business located in Concord, New Hampshire offering meals made completely from scratch in small batches using the finest organic and natural ingredients. All of Blake's organic products are certified by the NH Department of Agriculture, Markets and Food. Blake's All Natural Foods include organic and gluten-free options, such as their Gluten-Free Chicken Pot Pie. Other offerings include Upside Down Chicken & Waffle Pie, Harvest Vegetable Pie, and Farmhouse Shepherd's Pie. Their products are sold in supermarkets nationwide.
To learn more go to http://www.blakesallnatural.com or visit Blake's on Twitter @BlakesNatural or on Facebook at [http://www.facebook.com/BlakesAllNaturalFoods