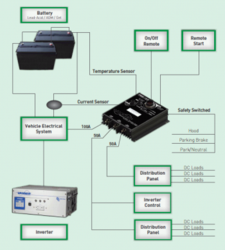 With the IdleWatch™ it allows the guys that don't have a fire station a chance to stay cool in the field, but uses far less fuel than before.
Hilliard, OH (PRWEB) August 31, 2012
Wheeled Coach Industries, Vanner Inc., and Sun Power Technologies recently teamed up to do what private ambulance companies have been waiting to do for years, cool their cab interior while on stand-by.
The combined benefits of the Vanner IdleWatch™ monitoring the batteries that supply power to a Sun Power Technologies A/C system, on a Wheeled Coach ambulance, allows the cab to remain cool without the engine running.
Wheeled Coach chose a Ford E450 Type II ambulance for their demonstration vehicle. The Sun Power Technologies A/C unit pumps out cold air from a small and efficient compressor mounted behind the attendant's seat, to a compact console with vents, fitting easily between the driver and passenger seats. Wheeled Coach then added the patented Vanner IdleWatch™ Idle Reduction System to monitor the auxiliary batteries, increase the engine-off operation time of the A/C system and assure that the vehicle's starting reliability would not be compromised.
Paul Holzapfel, Wheeled Coach Industries National Sales Manager said, "Without the Vanner IdleWatch™ system, the A/C unit would run about 45 minutes before the auxiliary batteries discharged and the A/C shut off. With the IdleWatch™ it allows the guys that don't have a fire station a chance to stay cool in the field, but uses far less fuel than before. The Sun Power Technologies A/C system is great and the operation time is now unlimited due to the Vanner IdleWatch™ technology."
Once the IdleWatch™ system is turned on, Vanner's patented model based battery monitoring insures that the auxiliary batteries have an adequate state of charge to power the A/C unit until a pre-determined state of discharge is reached. When the auxiliary battery state of charge drops to 50%, the IdleWatch™ automatically starts the engine to assure no interruption of A/C for the cab. The Vanner IdleWatch™ improved the performance of an already great A/C system, from 45 minutes of run time, to unlimited run time.
Bruce Beegle, Vice President of Truck & Military Sales for Vanner says, "We have had success with the IdleWatch™ in the Work Truck market for the past two to three years. Due to it's proven reliability, we decided to deploy it in the Ambulance Market as our customers are asking Vanner for solutions, while restrictions on idling continue to increase. This IdleWatch™ should prove to be a great fuel savings option for our ambulance customers."
The Wheeled Coach Type II demonstrator will be making its' debut in the Wheeled Coach Industries booth at the EMS Show in New Orleans, Oct 31- Nov 2, 2012. For more information, visit our website at http://www.vanner.com or contact Vanner at 1-800-227-6937.