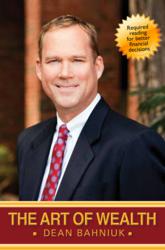 I wrote this book because most people are frustrated with money. They bought the best investments and did everything right, but still lost.
Miami, FL (PRWEB) August 30, 2012
Author and veteran financial advisor Dean Bahniuk releases his book, "The Art of Wealth". This groundbreaking work addresses why one plus two does not always equal three. Breaking from many of the established textbook investment theories such as losses don't count, being a long term investor, and incorporating ratios to identify a good investment, Bahniuk's book challenges everyone to think about money, finance and wealth differently.
"I wrote this book because most people are frustrated with money. They bought the best investments and did everything right, but still lost," Bahniuk says. "People want to know how to make better financial decisions and use money more efficiently. Saving more and investing more aggressively are not necessarily the answer." Emotions and economics have more to do with an investment's return than the textbook theories that so many promote. In a declining market, good investments go down almost as much as bad ones. Understand this and you'll open the door to financial success.
In applying military strategy to finance, Bahniuk redefines Wealth Management. "What most don't understand is that an investment's strategy does not automatically translate into your strategy. Investors should strive to strategically own investments, and buy these using tactics that allow successful execution. In understanding terms like fog, friction, and surprise, investors are able to engineer an effective strategy and identify tactics that lead to success." It is all about finding opportunity in chaos and confusion.
At its core, this revolutionary book examines wealth and demonstrates how investors at all levels can use compounding interest and leverage to realize exponential growth. You will learn to use your money more effectively by making better decisions, embracing economic cycles, and understanding how your emotions impact decision making. "Too many investors base their plans on hope," Bahniuk says. "Hope is an emotion, not a strategy."
Young professionals will benefit from the concepts including Personal Wealth, The Wealth Curve and Peter Principal of Wealth. Seasoned investors will learn how Wall Street operates, how trading differs from investing, and how to realize exponential growth. Bahniuk reiterates, "Most people use emotions making decisions based on what feels right. Employing strategy allows smart investors to harness the energy of economic currents."
About Dean Bahniuk and Black Marlin Publishing
Dean Bahniuk is a vice president, financial advisor, author, speaker and financial expert. With more than two decades of experience, he is a trusted and respected figure in the financial services industry. Dean graduated with an undergraduate in accounting, holds an MBA, earned his CPA, Chartered Retirement Planning Counselor designation, and holds various insurance and investment advisor licenses.
Black Marlin Publishing is a boutique publisher offering the best in new authors.
###