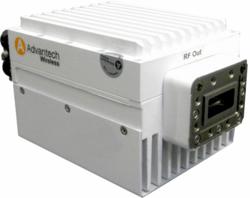 For government and military man-pack applications, this means that batteries last longer and mission-critical Video, Voice and Data get delivered.
Montreal, Canada (PRWEB) August 28, 2012
Advantech Wireless, a Canadian-based manufacturer of broadcast-quality Satellite, RF Equipment and Microwave Systems announces the release of a 20W GaN X-band and C-band BUC perfectly suited for harsh environments such as man-pack terminal deployments. Anyone carrying the Man-Pack terminal will appreciate the light weight, small size and high power BUC. For solid communications in the harshest of environments, Advantech Wireless' 20W GaN BUC is the product of choice.
Man-pack terminals provide quick and secure critical communications support for in-theater, intelligence gathering, surveillance, homeland security applications. Advantech Wireless has now released a new, smaller, lighter and more powerful 20W BUC, available in X-Band or C-Band, the perfect HPA for Man-Pack Terminals.
The 20W C-band and X-band GaN BUCs are part of a series of hub-mounted, up-converter transmitters, using Advantech Wireless World-leading GaN Technology. The 20W GaN BUC is an integrated unit, complete with power supply, phase-locked oscillator, mixer, filter and cooling mechanism weighing less than 2.5kg, or about 5 lbs.
The hub-mounted 20W C-band and X-band GaN BUCs are constructed in a compact cooling enclosure for outdoor operation. In addition to being weatherproof, they are the smallest fully integrated units on the market today.
Cristi Damian, VP Product Line Management and Business Development at Advantech Wireless states: "These new BUCs deliver more power per square inch than anything else in the market. Advantech Wireless is a pioneer of GaN-based High Power Amplifiers. Within the same footprint, GaN allows us to double the RF power and reduce energy consumption by up to 70%". For government and military application, this means that batteries last longer and mission-critical Video, Voice and Data get delivered.
About Advantech Wireless
Advantech Wireless, an ISO 9001: 2008 certified corporation, is shaping the world with leading-edge wireless broadband communications. Since 1988, Advantech Wireless manufactures and deploys networking solutions for broadband connectivity, broadcast solutions and backhaul requirements using satellite and terrestrial wireless communications. Products include: Terrestrial Microwave Radios, Antenna Controllers, Large Antennas, Deployable & Flyaway Antennas, SSPA's, Block-up Converters, Frequency Converters, Satellite Modems and next generation VSAT (DVB-RCS-2) Hubs & Terminals.