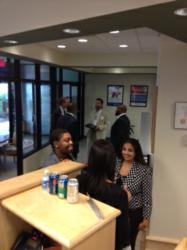 Tysons Corner, VA (PRWEB) August 29, 2012
Attendees ranging from local politicians to other banks and businesses enjoyed light refreshments as well as received some VHB giveaways. Board of Director/Treasurer, Doug Church, gave a short welcoming introduction to the guests.
Central Fairfax Chamber of Commerce http://www.cfcc.org/ is among the top ten area chambers of commerce as reported by the Washington Business Journal. They strive to form strong bonds with the City of Fairfax, the County of Fairfax, and other area chambers of commerce and associations. Virginia Heritage Bank was pleased to host this event with the chamber.
Virginia Heritage Bank, now headquartered in Tysons Corner, with total assets of $650 million serves Northern Virginia and surrounding communities, with branches in Fairfax, Gainesville, Chantilly, Tysons Corner and Dulles Town Center. VHB is a full service bank providing an array of retail and commercial financial services.
David P. Summers
703-277-2200
http://www.vhbank.com
http://www.vhbmortgage.com
OTCBB:VGBK
Member FDIC