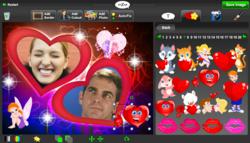 Los Gatos, CA (PRWEB) August 29, 2012
PiZap offers users a variety of fun and free tools to creatively enhance and share their photos. In the past three years the Facebook fan page has truly evolved into an online community for the 22 million global piZap users ("piZappers"). PiZap Facebook users are creating over 400,000 photos per day and top photos have earned up to 5,000 likes in a 24-hour period! On any given day piZap has close 250,000 people talking about the brand on Facebook.
PiZap launched the Facebook page (http://www.facebook.com/piZap) in late 2009. With millions of photos posted to Facebook every day, piZap is a natural fit within the Facebook App ecosystem.
"Our Facebook fans are truly invaluable to us. Facebook is not only a fantastic marketing channel; it also provides real-time feedback and a real sense of community. Our fans will help us uncover bugs, suggest new features, and encourage each other with feedback and ideas about their piZap creations," said Sam Crisco, piZap.com CEO. " The piZap Photo Editor is more whimsical, fun, and easier to use than many photo apps out there and our fans are truly passionate about the app. Without our Facebook fans we would never know the depth of the passion they have for our product."
Since incorporating Facebook, piZap has experienced three consecutive years of triple digit growth. PiZap's social media strategy has expanded to include other social platforms like Twitter, YouTube, Pinterest and most recently Tumblr, which are producing steady growth. PiZap is working on tablet and mobile versions that will be launching later this year.
About piZap:
Founded in 2008, piZap.com is an online photo editing website and Facebook application. PiZap provides a fun and easy design tool to customize photos with integrated social sharing for over 22 million global users. PiZap is a privately held and self-funded company based in Los Gatos, CA and employees four full time employees. For more information contact Kelly Darnall at kelly (at) pizap (dot) com.