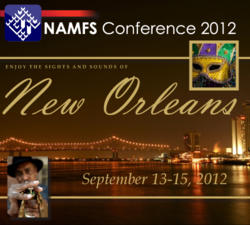 NAMFS is helping to shape the future of our industry. This conference continues to grow in size and content. The Membership Campaign, Business Education and New Certification Programs are making this a banner year! Chuck Sockol ASONS Construction
Stow, OH (PRWEB) August 28, 2012
Registration ends August 31, for the NAMFS Conference & Expo 2012 being held in New Orleans, Louisiana - September 13 through September 15. This three-day event will include volunteering, networking and educational sessions tailored to the diverse and evolving needs of the industry.
The conference theme, Industry Evolution: Education & Certification for Your Business, speaks directly to the content to be provided for the over 520 attendees. The educational portion of the event will be kicked off by a keynote address from Thomas Inserra, CEO of Sentinel Field Services, Inc., entitled, "Market Outlook: Preparing Your Organization for Considerable Change & Managing the Coming Transition." Friday's General Sessions will offer insights into the most recent developments within the industry from both investors and other regulatory institutions. Business Resource Center Sessions, also held Friday, will focus on improving businesses through: Use of NAMFS Programs, HR & Motivational Strategies for the Office & Field, Customer Service & Client Retention Strategies, Marketing and Service Diversification. Finally, Saturday's Training and Certification Sessions will include: General Industry Basics, Inspections, Pre-Sale Preservation, Post-Sale Preservation and Recurring Services.
The Association is proud to report that over 150 of the conference attendees will be participating in the NAMFS Gives Back event through our partnership with Rebuilding Together New Orleans. Rebuilding Together focuses on assisting seniors and disabled homeowners and recently completed its 1000th property on the Gulf Coast.
Volunteers will spend the first day of the conference improving the local communities of New Orleans. Maintenance will be completed for two homes and a playground will be built as part of the NFL sanctioned Kick Off to Rebuild project in partnership with Carter's Kids, Lowe's Home Improvement and Rebuilding Together. This hands on opportunity to help the community is directly in concert with the intent of field services, to preserve properties and prevent neighborhood blight.
The 2012 Opportunity Expo will be the largest in the history of the Association with over 40 exhibitors representing a variety of services and solutions for the industry. This event has been extended and will take place over the course of two days offering conference goers ample time to visit each booth. With expo space spanning over 10,000 square feet, each exhibitor will have ample room to share their products and services as well as hold discussions with interested attendees.
NAMFS would like to thank our sponsors for their support of this event, including Media Sponsor – Servicing Management. Additional information regarding the NAMFS Conference & Expo 2012 is available on NAMFS.org including links regarding exhibiting, sponsoring and/or volunteering at this industry-wide event.