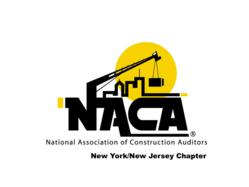 "We were thrilled with the turnout for the event and the feedback received by all recipients there" - Denise Cicchella, NY/NJ NACA President
Fair Lawn, NJ (PRWEB) August 29, 2012
The first New York/New New Jersey National Association of Construction Auditors event was held on August 22, 2012 in New York City. Thirty-five attendees experienced first hand what the association can offer and learn valuable insights from professionals in the field. The theme of the event was Construction Audi: Adding Value. Speakers included Denise Cicchella of Auspicium; Bob Cecere Jr of Thatcher Associates, Larry Bartelemucci & Finley Harckham of Anderson Kill and Olick, and Nick DiMola & Paul Flora both from Quality Plus & Associates. Lectures included: Get what you think you are paying for: Adding value through insurance specifications, procurement, claim quantification and valuation, A case study – after the Insurance claim, Securing the Site, and Building Your Construction Audit Team. The afternoon concluded with a panel discussion where attendees were given the opportunity to ask their questions about construction audit and managing construction projects. All presentations were well received.
New York/New Jersey NACA Officers hosted the event to help spread awareness of the value of the construction audit profession. Chapter Officers are Denise Cicchella – President, Bob Cecere Jr. – Vice President, Aamir Marvi – Secretary and Salvatore Cascon – Treasurer. The organization was formed in 2010 as the first chapter of the National Association of Construction Auditors. The chapter was founded to advance the visibility of construction auditing in the NY/NJ metro area, provide a forum to discuss current issues in the profession, and provide networking opportunities to optimize communication and support of those in the field. The chapter is open to auditors and non-audit construction professionals.
The National Association of Construction Auditors is an organization created to enhance the control environment related to construction projects, by addressing the needs of those auditors/accountants who spend a significant amount of their efforts auditing and/or controlling construction projects; Owner construction/facilities management personnel who want to improve their knowledge base of contracts and process controls resulting in their construction projects being better managed and controlled; and project Managers/construction management personnel who want to improve their knowledge base of process controls, thereby improving the overall product delivered to their customers
Auspicium is a boutique, management consulting firm specializing in real estate, IT, training and construction audit. Auspicium serves a multitude of clients including higher education, health care, pharmaceutical, mining and retail. If you are looking for a speaker at your next event, training, or assistance on your next audit, please call Auspicium at 1-877-550-6802 or check out at website at http://www.auspicium.com.