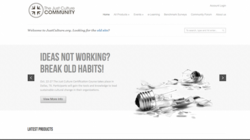 Plano, TX (PRWEB) August 28, 2012
On behalf of the Just Culture Community, Outcome Engenuity, LLC is pleased to announce the launch of the new Just Culture website at http://www.JustCulture.org. Representing the culmination of over twenty years of research, development, and implementation in high-consequence industries around the globe, Just Culture has proven to be the most effective solution for sustainable organizational improvement available today. Designed as a balanced approach combining systems engineering, human factors science, and the law - Just Culture provides the organizational framework for responding to events and behaviors in a fair and consistent manner. Now the tools and products used by organizations achieving better outcomes for over a decade are presented to the public through the Just Culture website. They are available for use by both individuals seeking enhanced skills as well as organizations embarking on a journey of cultural transformation.
JustCulture.org features a suite of training products and services customized for organizations in healthcare, emergency medical services, aviation, and general industry. Look for other products to be made available soon in law enforcement, the rail industry, and beyond. Included among the products available today are a new series of Just Culture Live Webinars; the book Whack-a-Mole, by Outcome Engenuity CEO and the Father of Just Culture, David Marx; and a variety of video and print materials designed to fit the needs of Just Culture Champions. Additionally, the website hosts an online community forum to support inquiries, solution sharing, and the direct exchange of experiences related to Just Culture concepts and products. Outcome Engenuity CEO, David Marx, and President, Scott Griffith, invite you to join them on their journey and share your experience with other members of the Just Culture Community.