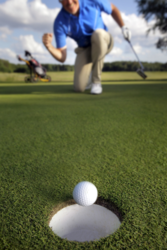 Myrtle Beach, SC (PRWEB) August 29, 2012
The Fall golf season is fast approaching in Myrtle Beach and Springmaid Beach Resort is getting prepared. The summer is drawing to a close and Myrtle Beach is seeing fewer and fewer family vacationers. The new tourist crowd is mainly made up of golfers exchanging the colder weather up north for the perfect golf temperatures of the south. Golfers and golf leagues flock to Myrtle Beach not only for the great weather, but also for the amazing golf courses. Springmaid Beach Resort is welcoming the Fall golf crowd with great golf packages that include rooms and golf at some of Myrtle Beach's best courses.
There are many golf leagues that travel south to play their fall golf tournament in Myrtle Beach. Springmaid Beach Resort has put together a fantastic package to accommodate these groups. The Stay & Play Package is a flexible golf package that allows leagues to stay and play for as many, or as few days as they like. This package includes nightly lodging in a gorgeous oceanfront hotel room equipped with a private balcony overlooking the Atlantic ocean. It also includes a daily round of golf with a cart at River Oaks, Lockwood Folly, Indigo Creek, Beachwood Golf Club, Cypress Bay, Azalea Sands, Brunswick Plantation (PM), or Crown Park (PM). Brunswick Plantation and Crown Park can only be played in PM time slots. Golfers taking advantage of the Stay & Play package will be able to play any of these great courses in any order they choose.
Another great package that suits both leagues and individual golfers is the 4 Night Golf Super Saver Package from Springmaid Beach Resort. This package is for golfers looking to play more than 1 round per day. The 4 Night Golf Super Saver Package includes 4 nights at Springmaid Beach Resort in a room with a private balcony overlooking the Atlantic Ocean. Also included is up to 36 holes of golf with a cart each day. The courses included with this package are Black Bear, Burning Ridge, Indian Wells, and Founders Club at Pawley's Island. Golfers must play each of the courses during their stay and can enjoy free replays of any of them based on course availability.
Myrtle Beach is a Fall golf haven and leagues that are looking to plan their fall tournaments should certainly take advantage of these great packages being offered by Springmaid Beach Resort. Booking hotels and golf separately would be very expensive but purchasing golf packages that include both end up saving golfers lots of money. Leagues and individuals planning on purchasing these packages should book now while they are still available. Visit the Myrtle Beach Golf Packages page for more information on pricing and availability.