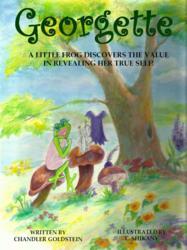 Georgette is perfect for teaching young girls the values of individuality and self-respect!
Sandy Springs, GA (PRWEB) August 30, 2012
Author Chandler Goldstein has created a successful way to open the lines of communication with children experiencing self doubt. By writing an enchanting children's book that deals with self esteem, self discovery and exclusion, she invites a child and parent or teacher to revisit the story and examine their own feelings through a few simple discussion questions at the end of the story. The book is entitled "Georgette" who is a small frog that that has gone to great lengths to be accepted by the more popular frogs. Along her journey she meets someone that helps her realize that the path to true friendship is by simply being herself.
Goldstein, while working in the corporate world, is most proud of being a parent. Her experiences with both of her children have ranged from bullying and self doubt to the Have and the Have Nots. She has learned the best way to combat these very delicate issues is through deep discussion. Helping a child to find self acceptance is key to building a strong adult.
Georgette is the first of a planned series of books relating to the issues that children must cope with on a daily basis. Continuing to develop coping skills as children mature today is essential due to the mere fact that these situations seem to be getting more and more difficult.
Chandler Goldstein lives in Sandy Springs, Georgia with her husband, two children ages 22 and 7, one cat, one dog and two turtles.