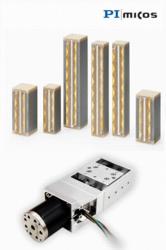 Auburn, MA (PRWEB) August 28, 2012
Endless qualification and lifetime tests had to be passed, before the launch. Due to the high product quality, equipment based on commercial off-the-shelf (COTS) products from both companies could be selected and modified to meet the requirements for the space application. COTS-based products can save a considerable amount of money, a significant advantage given the modern-day space program budget restrictions.
PICMA® Piezo-Electric Stacks in the CheMin Instrument Feeder
CheMin is an X-ray diffraction and fluorescence capable mineralogy instrument that can help to determine if water was present in the formation of rocks and soil on Mars.
PICMA® multilayer piezo actuators were installed to precisely control the vibrations in the sample handling system, feeding mineral powder through a funnel into the individual sample cells. The ceramic-insulated piezoelectric actuators emerged after rigorous tests of different types of actuators run by NASA's JPL. PICMA actuators survived 100,000,000,000 cycles of life testing with no failures.
Autofocus Positioner from miCos for the ChemCam
The ChemCam (Chemistry and Camera) instrument uses a laser and a spectrometer to determine the composition of rocks, before closer examination with the CheMin Instrument follows. A high precision motorized positioning mechanism -- the MT-40-Space, linear translation stage from PI miCos -- focuses the light for the analyzing system.
Down-To-Earth Collaboration
Shortly before Curiosity left Earth in November 2011, miCos joined the PI family of companies. Together they are now ready to take on any precision positioning challenge, in air, under high vacuum conditions on Earth and in locations as remote as Mars.