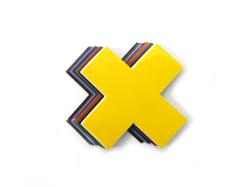 "The quality of SafetyTac's marking tapes is the best in the market. I will never go back to paint for marking areas."
Lake Oswego, OR (PRWEB) August 31, 2012
SafetyTac Industrial Floor Tapes outshine all the rest when it comes to strong and durable floor marking tapes. SafetyTac Xs 25 Pack is a new product that will withstand heavy forklift and industrial traffic. This product is an ideal way to mark between 4 objects on the floor such as pallets, machines, staging areas, equipment, bins and racks. It is a perfect solution to mark areas around moveable objects so you know where they go back to. The pack comes in 10 color choices with 25 per pack, 6"x6"x2" square corners. The installation is a simple and easy peel-n-stick product that is also easy to clean but tough enough to handle heavy industrial traffic. Another product customers are raving about is the SafetyTac 5s Squared Corner Style T's that work exceptionally well with the SafetyTac Xs 25 Pack. The two together will assure floor marking standards are being adhered to under safety programs.
Customer feedback has been overwhelming and the word out in the market is that paint is the old way to mark floors. The floor marking tape is scratch, smear and scuff resistant and will not fade. Unlike paint that will crack, peel and disappear overtime from heavy equipment traffic. This product is ideal for any 5s or lean programs where potential hazard areas are visually marked properly according to safety standards.
Industrial and manufacturing facilities that are looking to improve productivity and experience more profit should consider SafetyTac's products. The quality and service that is rendered makes SafetyTac one of the leading suppliers for safety products. As one survey recipient responded, "The quality of SafetyTac's marking tapes is the best in the market. I will never go back to paint for marking areas."
To learn more about the new floor marking tape or any of SafetyTac's products, visit http://www.safetytac.com or call toll-free (888)246-6770 to speak to one of the knowledgeable customer service reps.