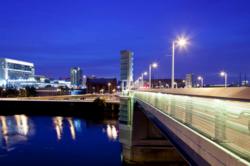 [The mesh] gave the bridge a soft glow at night...
Cambridge, MD (PRWEB) August 30, 2012
Residents and businesses around Philadelphia's South Street neighborhood are enjoying the newly reconstructed South Street Bridge that serves over 30,000 users in this thriving community of shops, dining and entertainment.
Four glass river towers, which double as scenic overlooks, stand in the Schuylkill River shining color-changing LEDs on to Cambridge architectural handrails. These not only act as fall protection, but reflect the lighting to give the bridge a trendy aesthetic reminiscent of the South Street community it serves. To avoid driver distraction, the LEDs will remain white for the majority of the time.
"Overall, the mesh accentuated the horizontality of the bridge and mitigated the harshness of the structural steel railing," says Bruce Chamberlin, H2L2 Architects/Planners, LLC, the architects commissioned for the design. "In addition, it gave the bridge a soft glow at night, while maintaining the openness desired by the design team and community."
Using a Railway cable attachment method, approximately 10,700 sq. ft. of Scale pattern mesh protects pedestrians, bicyclists, and even traffic below the bridge, preventing objects from falling from above.
"We needed to provide a code compliant rail meeting the 4-inch sphere requirement but wanted to keep the railing open; we also wanted to shield the steel crash railing required by the D.O.T.," Chamberlin continues. "In addition, we could wash the face of the mesh at the railings with light with an LED lamp hidden in the uppermost section of the railing."
While the bridge is aesthetically pleasing and useful to the bustling population of South Street Philadelphia, it is also durable and safe. Cambridge Architectural mesh systems are woven from T316 stainless steel, and have proven to remain durable and pristine even in climates with varying temperatures and weather.
Engineered by Gannett Fleming of Camp Hill, PA, and managed by Driscoll Construction Company, Inc., the South Street Bridge architectural mesh handrails were installed by L&S Erectors of Litchfield, OH.
The City of Philadelphia, who is also the owner of the bridge, released a statement from Deputy Mayor for Transportation and Utilities, Rina Cutler, stating "We have a beautiful design that will withstand the test of time," calling it "a safe and comfortable way to cross the Schuylkill River."
# # #
About Cambridge Architectural
From concept to installation, Cambridge Architectural is the only full-service provider that sees a design through to ribbon-cutting. As the world leader in tensioned mesh systems, Cambridge Architectural gives each project a distinctive quality for both interior and exterior applications, extending an unparalleled transformational aesthetic while maintaining functionality. Cambridge offers a full range of sustainable metal mesh solutions, providing full system design, engineering, and installation services, in the most challenging building environments and under the strictest budgets. Visit CambridgeArchitectural.com to experience Cambridge's abilities.