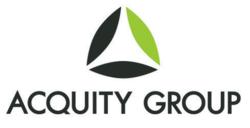 (PRWEB) August 28, 2012
Acquity Group (NYSE MKT: AQ), a leading global Brand eCommerce™ and digital marketing company, announced today that it has been named the ninth largest digital agency for U.S. mobile revenue by Advertising Age. The first ever Ad Age Mobile Marketing Fact Pack includes key data on mobile ad agencies, mobile spending, consumer behavior and other topics. Acquity Group's inclusion in the list of "Largest U.S. Mobile Agencies" reflects the company's growing influence in the development of mobile commerce solutions for global brands.
In today's competitive omni-channel commerce environment, brands are recognizing the role tailored mobile strategies play in establishing connections with diverse audiences. Acquity Group's expertise in the integration of strategy, marketing and technology has been a driving force behind its mobile capabilities and has contributed to the company's robust growth curve.
Some of Acquity Group's recent mobile accomplishments include engagements with Discover and GM brands. Acquity Group's work on Discover Mobile enhanced navigation, functionality and design features, resulting in the new Discover iPad app being named the top finance category download in its first week. New launches of GM's Chevy, Cadillac, Buick and GMAC mobile sites yielded similar outcomes.
"Mobile channel expertise is a pillar of Acquity Group's brand eCommerce and digital marketing capabilities, and we're extremely pleased to be recognized by Ad Age for our work as a leading mobile agency", said Jay Dettling, EVP and head of North American Services at Acquity Group. "Going forward, we expect mobile will continue to be an important player in multichannel strategy and we look forward to creating even more seamless mobile experiences for the world's most respected brands."
In addition to being named in Ad Age's Mobile Marketing Fact Pack 2012, Acquity Group has been recognized as a top digital agency by Ad Age for two consecutive years. Acquity Group also releases an annual Mobile Audit of the Internet Retailer Top 500, a widely respected report that identifies the industries and companies at the vanguard of mobile commerce initiatives.
For more about Ad Age's Mobile Fact Pack 2012, visit their website.
About Acquity Group:
Acquity Group is a leading global Brand eCommerce™ and digital marketing company, creating award-winning digital experiences for global brands. Our multi-disciplinary approach brings together strategy, design, and technology to create unique brand experiences that build firm customer relationships. Acquity Group works with leading brands like Adobe, AT&T, General Motors, Motorola, and Saks Fifth Avenue through offices in North America and Asia. To define a unique perspective for your business, contact Acquity Group at http://www.acquitygroup.com.