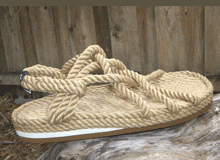 Fayetteville, NC (PRWEB) August 29, 2012
Nomadic State of Mind, a grassroots sandals company from North Carolina, has just announced plans to offer customers the option of customizing their already unique sandals during the months of September and October.
The company specializes in handmade rope sandals that are not only great conversations pieces, but are also very comfortable and full of unique features. They are handmade, machine washable and colorfast, vegan friendly, and incredibly durable. While the sandals are traditionally all rope, the company began to offer a Vibram sole option on their most popular style, the JC, several years ago. They are now opening up and giving customers the option to add a sole to any of the sandals they currently carry as well. This is a great opportunity for the people that have been aching to get a pair of Toe Joe's with sole or a limited edition pair of JC's with sole.
In addition to offering custom soles, the company is also opening their standard sandal line up to people with hard to find shoe sizes. While the camel JC is always available for everyone from infants to Michael Jordan, now people can request any of their standard styles in any size
For more information on this limited time program or advanced order inquiries please contact Shea McNally at 877-666-2376.
About Nomadic State of Mind
Nomadic State of Mind was founded nearly ten years ago and is based in North Carolina. Manufacturing takes place both in Florida and in Nicaragua where the company has helped support a small community for the past eight years. Nomadic has always believed in positive contributions to the world around them and is committed to remaining true to their roots. For more information or additional art work please contact Chris Anderson or Shea McNally at 877-666-2376 or http://www.nomadicstate.com.