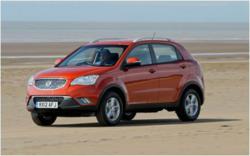 (PRWEB UK) 29 August 2012
It's a car many probably haven't heard of, but it's also a car from a company that claims to be on the up. The Korando is Ssangyong's first car to use a monocoque chassis rather than the crude ladder-on-frame set-up every other one of its cars has used and it's also been designed by legendary Italian design house Giugaro.
It all boils down to a value off-roader that's hoping to steal sales from the Kia Sportage, the Hyundai iX35 and Nissan Qashqai.
What's hot?
The Korando is incredibly good value. The four-wheel drive SX variant we've driven costs £18,795 but a similarly specced Sportage would cost around £4,000 more and the cheapest four-wheel drive Qashqai is almost £10,000 more.
Drivers will get plenty of kit included in the price too, including cruise control, curtain airbags and parking sensors.
Buyers would be hard pushed to tell this was a Ssangyong. The Giugaro-designed body is actually rather stylish and much more likely to stand out than other cars in this class.
For those after a cheap tow car the Korando can tow braked loads up to 2,000kgs when equipped with four-wheel drive. Two-wheel drive models are also available.
Compared with the cheapest Qashqai or Sportage, the Korando is actually very quick. Acceleration from 0-62mph takes 9.9 seconds and in-gear acceleration is surprisingly rapid.
What's not?
The 2.0-litre diesel engine is rattly and the harsh noise it makes means that driers won't necessarily want to push it too hard.
Drivers should try and avoid the automatic gearbox because the shifts are too slow and it seems to get easily confused, switching gears too readily.
The ride is comfortable for the majority of the time but find any potholes and the Korando crashes nosily in to them.
Handling is far from perfect too, with a fair amount of body roll in the bends and a bit of dive under braking too.
Fuel economy of 45.6mpg and CO2 emissions of 157g/km are about average for this class, but that still doesn't make the Korando frugal.
Cabin quality is not good, with cheap feeling materials covering the dash, door panels and seats.
Business Car Manager Verdict
The Korando is incredibly cheap to buy and until the Dacia Duster arrives late in 2012 it is actually the cheapest four-wheel drive SUV on sale. With the ability to tow a braked load of two tonnes the Korando has plenty of practical applications for company car users but it's definitely not a quality product. The ride is crashy, the engine is noisy and the cabin quality is well down on other cars in this class. For a business that needs a 4WD, it'll appeal to whoever runs their business car finance!
The low down
P11D Value - £18,570
Monthly business rental (ex VAT) - From £380
Tax band 2012/13 to 2014/15 - 25%, 26%, 27%
BIK tax - £4,643, £4,828, £5,014
Engine - 2.0-litre 4-cyl diesel
CO2 - 157g/km
Power/torque - 149bhp/ 370Nm
0-62mph - 9.9 seconds
Economy - 45.6mpg
Keep up to date with the latest business car leasing news and business car news with BCM