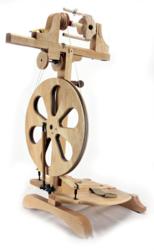 The Revolution Spinning Wheel is like a Swiss Army Knife for spinning yarn.
Spokane, WA (PRWEB) August 29, 2012
"It's just so smooth to treadle!" Local and online customers have been putting our new Revolution Spinning Wheel to the test with rave reviews from ease of use and smooth action to the exclusive multiple speed oversize jumbo flyer head! "We included the best standard features from our favorite wheel designs and even included a few brand new features never seen before!" The Revolution Spinning Wheel is really in a class of its own from any spinning wheel on the market. The only other wheel that comes close is the legendary Schacht Matchless Spinning Wheel but it's still lacking a few features the Revolution includes as standard.
"The Revolution Spinning Wheel is like a Swiss Army Knife for spinning yarn." Spin lace or worsted with the standard flyer or pop in the Jumbo Flyer for super bulky art yarns with jumbo orifice! It has features other wheels have always dreamed of, like adjustable treadle depth, hand balanced precision flyer, multi-speed oversized jumbo flyer and quick treadle disconnects to name a few!
Spinners from beginner to advanced skill level love the Revolution. It's easy to setup and includes features that are extra on most other spinning wheels. There is also a DVD included for quick setup and tips and tricks for new spinners. "This wheel is very easy to learn on, we use it to teach all of our local spinning classes here at the shop."
The level of control with the adjustable treadle depth and smooth treadle action is a welcome friend with teachers and students alike. Advanced spinners really seem to connect with the flexibility of this wheel and it is one of the few wheels that can be considered a true production wheel. The Revolution can be used in single drive or double drive configurations with our quick disconnect drive band system for fast switchover. The long stroke on the treadles allows the user to increase the range of the whorls in high speed, standard and jumbo plying modes.
Feedback from our instructors and customers has been instrumental with design and development. Many of the custom features came from requests by instructors and customers. The multiple speeds on the Jumbo Flyer are a great example of this. Everyone hates changing bobbins so we created faster speed whorls for our Jumbo Flyer with the use of something called a jack shaft. This allows for spinning smaller weights as small as sport and light worsted with the Jumbo Flyer!
"The Oversize Jumbo flyer is terrific for spinning wild art yarns with adjustable speeds and huge 7/8 inch orifice!" The Jumbo Bobbins for the Jumbo Flyer are mighty, holding nearly 8 ounces of yarn! The Jumbo Flyer is bobbin lead and features multiple speeds when plying or spinning art yarns unlike any wheel currently on the market.
When you look closer at the Revolution you'll notice there aren't any seams in the drive wheel. Nearly every wheel we've seen in our shop has some kind of joined pieced together drive wheel, not the Revolution. The Revolution is built to last and the drive wheel is not joined, it is solid wood! It's made from maple and walnut with no seams, it's more expensive but it will resist warping and looks amazing. We sandwich high quality maple with walnut in between for a custom look and finish.
The Revolution is made right here in Spokane, WA. As part of our company mission we support local farms and manufacturing and this spinning wheel product is no exception. All of the parts for the wheel are sourced domestically and assembled and quality tested here at our shop. We also manufacture custom wool combs for wool processing and the famous Paradise Fibers Super Swift II yarn swift that works conveniently with a ball winder wind yarn into a ball. A great wheel needs an awesome Lazy Kate, right? "Dad", here at the shop designed the Paradise Fibers Best Lazy Kate to work flawlessly with the Revolution. This Lazy Kate now accommodates Jumbo Bobbin's for your wildest super bulky creations! The Kate is tensioned with built in guides to avoid tangling when plying. The Best Lazy Kate is available separately for $49 as of this article.
The Revolution has been in the works since 2009 and was formally released in October 2011. The Revolution standard spinning wheel without Jumbo Flyer currently sells for $795 as of this release.
Paradise Fibers has been in business selling knitting yarn and spinning fiber since 1995 with a full featured wool shop including everything from wool yarn and wool roving to weaving looms and crochet yarn. The company is family owned and operated and consists of a sprinkling of Romine family members, some amazingly dedicated fiber junkies and 1 boy aspiring to be a stunt man.