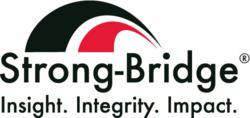 Seattle, WA (PRWEB) August 28, 2012
Strong-Bridge LLC has been named one of the country's top small-sized business-consultancies to work for by Consulting Magazine. Over 13,000 consultants nationwide participated in the survey, making it the largest independent survey of employee satisfaction within the industry.
To name the Best Firms to Work For, Consulting Magazine ranked firms within six categories, each measuring a different aspect of employee satisfaction. Strong-Bridge scored within the top ten for employee satisfaction on Client Engagement and Work/Life Balance.
"Our motto has always been doing the right thing for our clients starts with doing the right thing for our people", states Ken Simpson, Principal and Co-Founder of Strong-Bridge. "We ranked very high in employees feeling their work had a positive client impact while maintaining work life balance. Scoring high in these categories demonstrates our commitment to our clients and our people."
The six categories measured within the employee survey are: Client Engagement; Firm Culture; Firm Leadership; Career Development; Work/Life Balance; and Compensation and Benefits.
About Strong-Bridge
Strong-Bridge LLC is a professional services firm that provides strategic leadership and execution excellence for clients ranging from startups to Fortune 100 corporations. With Customer Experience at its core, Strong-Bridge provides thought leadership and expertise in areas of product, marketing, sales, and service strategy, process and operational optimization, and program and project management. With a strategy to reality approach, Strong-Bridge has completed hundreds of complex and game-changing initiatives for companies such as T-Mobile, Microsoft, Starbucks, Expedia, AT&T Mobility, Premera, and GCI.
Founded in 2003, Strong-Bridge has earned a 100% client referral rate with over 120 professional consultants in Seattle and Toronto.