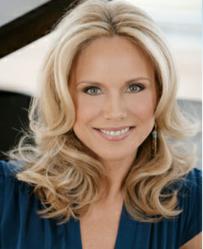 ". . . I want them to know that they can be fit, strong and powerful and still look and feel like beautiful women."
New York, NY (PRWEB) August 29, 2012
When Beth Chamberlin took her husband's advice and started training with kettlebells five years ago, her physical transformation was so rapid and profound that she found herself being approached and questioned about how she was able to change her body so quickly. "About six weeks after I started working out with kettlebells, one of my co-stars asked me where I got my new arms and how could she get some of her own," said Chamberlin. "I realized then that I had found something special."
Not long after that Beth began studying to become a kettlebell training instructor. Upon achieving that rank she set about producing the first of two popular kettlebell training DVD's that have received widespread critical and popular acclaim in the ensuing four years. Amongst the thousands of letters thanking Beth for her training programs, two common themes became apparent: women spoke of being empowered by their newfound strength and fitness and they asked when Beth would produce more of her incredible training DVD's.
"When I began to get these letters from women all over the world thanking me for my workouts I was taken aback by the response. My goal had been to get the word out to women that they could get their fitness back by doing this training. What women told me was that this workout changed their lives, restored their health. . . empowered them. It has been such a rewarding experience and I am ready to do more."
During the last two years Beth has expanded her knowledge by taking formal study in sports sciences and by personally training and advising dozens of friends, family and clients. She has taken this knowledge and combined it with some twenty years of study in dance and ballet to design an all new series of workout DVD's that will focus on enhancing strength, flexibility and cardiovascular fitness in each stand alone workout. These workouts will be designed for use by all fitness levels but will increase in difficulty and demand with each successive DVD.
"I want to make the journey to fitness and vitality accessible for women everywhere and I want them to know that they can be fit, strong and powerful and still look and feel like beautiful women."
In order to fund this project Chamberlin has created a special "pre-release" purchase program offering the DVD's as well as other interesting "perks" which can be seen at http://igg.me/p/183684?a=915227.
Beth Chamberlin played the part of Beth Raines, on Guiding Light for 15 years. For the past four years she has been promoting the metabolic approach to strength and fitness training using kettlebells as the primary tool. Additional details, testimonials and video are available at http://igg.me/p/183684?a=915227.