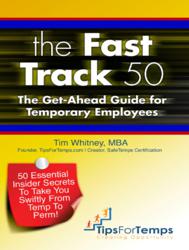 'If giving my book away helps Americans get back to work,' says author Tim Whitney, 'then I am eager to do it.'
Baltimore, MD (PRWEB) August 31, 2012
On Monday, September 3, Americans taking the day off for Labor Day will have another reason to celebrate. From then until Friday, September 7, Tim Whitney's acclaimed book The Fast Track 50: The Get-Ahead Guide for Temporary Employees will be available as a free download from Amazon.com.
The Fast Track 50 is the first Bancroft Press title ever to be given away for free.
"I want to help people get jobs," says Dallas, TX-based Whitney. "That's why I wrote this book, recalling my dealings with thousands upon thousands of temps to put together the top 50 things they need to know."
Labor Day was established as a federal holiday in 1894 to pay tribute to the contributions and achievements of American workers. It's in that spirit that Whitney and Bancroft Press have chosen this week to make The Fast Track 50 available for free download.
"If giving my book away helps Americans get back to work," says Whitney, "then I am eager to do it."
Whitney's guide has drawn praise from readers on all sides of the job hunt. Accomplished career coach and author of This Is Not the Career I Ordered Caroline Dowd-Higgins hosted Whitney on her Career Coach Caroline radio show, and recently made Whitney's book the focus of her article "Surefire Ways To Turn A Part-Time Gig Into a Full-Time Job."
"The Fast Track 50 is a wonderful resource," says Dowd-Higgins. "Tim Whitney's wisdom is spot-on, confidence-building, and so applicable to real-world scenarios in the workforce."
The Fast Track 50 was also adopted recently by the Employment Services Program at Phoenix, AZ's LifeBridge Community Alliance. Jeff Meneely, leader of the program and director of Logistics, Coty, Inc., called the book "a must-read for anyone wanting to increase their value in the workplace."
"The book was very informative and helpful," says Fred Graves, one of Meneely's students. "It was very encouraging and positive. It didn't beat you up because you may not know what you're doing."
Bancroft Press publisher Bruce Bortz notes that, "With Congress doing little on the job front, Americans will have to help themselves. We're giving this wonderful book away beginning Labor Day so that they can do exactly that."
The Fast Track 50 will be available for free download from Amazon.com from Monday, September 3 through Friday, September 7. It is also available in print from Amazon, Barnes & Noble, and wherever books are sold.
Bancroft Press has been a leading independent general interest publisher in Baltimore, MD for the past 20 years.