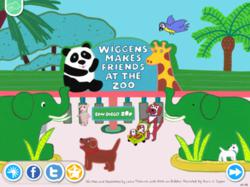 "We are an organization dedicated to putting people in touch with animals," said Ted Molter, Director of Marketing for San Diego Zoo Global. "These books help us do this by reaching out to children in a fun and informative way – building interest in enda
Toronto, Canada (PRWEB) August 29, 2012
Having earned praise from the likes of Martha Stewart, Tom Brokaw, Mary Higgens Clark, Tim Zagat, and Dick Parsons with their first collaboration, Wiggens Learns His Manners At the Four Seasons Restaurant, Leslie McGuirk and co-author and restaurateur Alex von Bidder have brought back Wiggens for an all new adventure in his first fully interactive iPad ebook, Wiggens Makes Friends at the San Diego Zoo, produced by Skyreader Media.
In Wiggens Makes Friends at the San Diego Zoo, the lovable Chocolate Labrador puppy takes children behind the scenes to places rarely seen by visitors, and involves them in activities such as feeding and engaging with the animals. Inspired by the immersive experiences Skyreader Media created in their recent chart-topping iPad eBook Draw Along Pip (also authored by McGuirk), Wiggens Makes Friends at the San Diego Zoo captures children's imaginations through interactive means that encourage discovery, exploration, and conservation awareness.
"We are thrilled to work with the San Diego Zoo, an incredible brand known for its commitment to the preservation of animals and the environments that they live in. With the launch of Wiggens Makes Friends at the San Diego Zoo, we are also marking our continuing momentum into the top tier of children's eBook apps," said Skyreader Media CEO Kevin Gillis.
"We are an organization dedicated to putting people in touch with animals," said Ted Molter, Director of Marketing for San Diego Zoo Global. "These books help us do this by reaching out to children in a fun and informative way – building interest in endangered species."
"It is vital for an artist and writer to be inspired by a new project. As a huge animal lover, the opportunity to work with the world famous San Diego Zoo has put me inside a world of immense creative possibilities," said Leslie McGuirk. "I love how with Skyreader Media I can take great storytelling to the next level into a multimedia experience I couldn't have imagined even a few years ago."
Skyreader's Wiggens Makes Friends at the San Diego Zoo is available now from Apple's App Store, as well as on Skyreader Media's website bookshelf at http://www.SkyreaderMedia.com. A part of the proceeds of the sale of the app will go to support the San Diego Zoo.
Download from itunes:
http://itunes.apple.com/us/app/wiggens-makes-friends-at-san/id548021979?ls=1&mt=8
About Skyreader™ Media
Skyreader™ Media is a developer and publisher of mobile eBook apps for the Apple® iPad® and other tablet devices. Skyreader's™ exclusive content and proprietary technology positions it as a market leader in immersive and interactive eBooks for children of all ages. With access to over 5000 book titles and exclusive licenses for 1500 titles, Skyreader™ is enabling next generation storytelling for children and parents in all new and engaging ways.
About San Diego Zoo
The 100-acre San Diego Zoo is dedicated to the conservation of endangered species and their habitats. The organization focuses on conservation and research work around the globe, educates millions of individuals a year about wildlife and maintains accredited horticultural, animal, library and photo collections. The Zoo also manages the 1,800-acre San Diego Zoo Safari Park (historically referred to as the Wild Animal Park), which includes a 900-acre native species reserve, and the San Diego Zoo Institute for Conservation Research. The important conservation and science work of these entities is supported in part by The Foundation of the Zoological Society of San Diego.
Media Contacts
Sabrina Propper ▪ spropper.rpipr(at)gmail(dot)com ▪ 818.515.5798
SAN DIEGO ZOO GLOBAL PUBLIC RELATIONS ▪ 619-685-3291