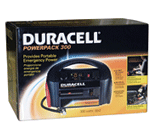 Destin, FL (PRWEB) August 29, 2012
Most power outages only last between 8 and 24 hours. It may not be necessary (or practical) to run a noisy generator to restore power when alternative power sources are available. Apartment or condo dwellers may not have the luxury of running a generator because of local rules and regulations. Duracell PowerPacks can produce between 300 and 600 watts of emergency power with battery storage and 120vac inverter power to give safe, quiet power for emergencies. The PowerPacks can be initially charged through a wall outlet and recharged during an extended outage with either a generator or solar panels. Although these PowerPacks may not be able to run a refrigerator or freezer, according to the USDA in a short term power outage food will stay cold in a refrigerator for at least 4 hours and a freezer will keep food frozen for up to 48 hours if you keep the door closed.
The Duracell PowerPacks are lightweight and portable so they can be used anywhere in the home for safe and quite emergency power. Check out all the Duracell Powerpacks, Inverters and Battery Chargers at Disaster Relief Supply in Destin Florida, or on line at the Disaster Relief Supply website for information, specifications and special pricing.