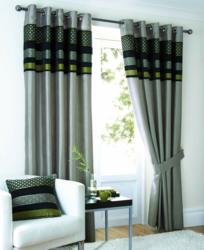 Birmingham, United Kingdom (PRWEB UK) 31 August 2012
The general perception is that quality comes at a price and that discounts are for the downmarket, yet home décor experts from Curtains4u have disproved this theory for all the right reasons. Business thrives on high quality choices for the consumer and this is especially true in home furnishings where vibrant designs and superior textures are paramount. This does not mean however that prices need to be equally high. To this end, the new season has ensured that innovative and competitive offers have been introduced by the experts themselves causing a shake-up of the current market.
Outstanding ranges at unbeatable prices have ensured that the industry leaders have not disappointed. From a variety of soft furnishings including curtains, linen sets, and accessories to curtain poles and branded designs, customers are able to enjoy a plethora of choices and prices that they can afford. Not only has this meant that convenience, ease of purchase, and choice have never been better, but also that the savings in conjunction with the multitude of choices available to the consumer allow them to take full advantage and refurnish their home fully, and for less.
There is an extensive range of ready made curtains with a selection of headings, such as pencil pleat and eyelet curtains, as well as extra-wide widths and longer drops in a range of styles, all with as much as 30% off across the ranges. Styles are updated and changed to keep the lines fresh and products are carefully crafted taking into account popular demand. Curtains by leading brands such as Montgomery are perfect for the new season and are both practical and stylish. What's more, the current offers that are running throughout three of the major product categories are enticing enough for customers to fully indulge in the deals that are available this season.
Curtains4u as a leading home furnishing specialist appears to offer both depth and breadth in the products and styles that it offers: top brands, vibrant designs and captivating textures all culminate in the ultimate shopping experience. The choice may be hard, but it looks as though it shall be well worth the time invested.
Even for those selective shoppers who prefer putting their own personal touch on their home furnishings, curtains4u has a wide range of curtain fabrics to choose from that may be made up to the customers preferred measurements. With up to 20% off many of the fabrics listed, not only have they made buying home furnishings a unique and pleasurable experience, but also one that makes perfect economic sense.