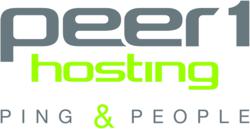 'PEER 1 Hosting was personable, transparent, easy to work with and flexible from the start'
London (PRWEB UK) 29 August 2012
The London-based company deployed PEER 1 Hosting managed dedicated servers in March 2012 to host Chelsea Apps Factory's mobile platform, which is used to deliver bespoke apps to global brands securely, accurately and efficiently.
Chelsea Apps Factory made the decision to go with PEER 1 Hosting based on the reputation of security, flexibility and transparency of its offerings, as well as the promise and delivery of quality service. Chelsea Apps Factory has evolved into one of Europe's top enterprise-level Apps consultancies and is looking to increase its use of PEER 1 Hosting's web hosting services.
Nir Ozeri, Chief Technology Officer, Chelsea Apps Factory found it easy to convince his CEO that PEER 1 Hosting was the right choice for hosting their mobile application platform. He said: "My team got the feeling everything just worked perfectly. PEER 1 Hosting was personable, transparent, easy to work with and flexible from the start. It feels like they would be available if I needed to call them in the middle of the night."
The partnership with PEER 1 Hosting allows Chelsea Apps Factory to deliver numerous benefits to its customers. The company is linked up to PEER 1 Hosting's 10Gbps FastFiber™ Network around the world, ensuring high speed, quality service and support are always maintained as the company grows. Customers benefit from faster web response times thanks to the care taken to optimise online performance, as well as a smooth all-round user experience and guaranteed uptime of the mobile application platform. PEER 1 Hosting's solution also enables multi-channel capability, a key feature of Chelsea Apps Factory mobile platform.
Ozeri continued: "PEER 1 Hosting takes all the pressure off Chelsea Apps Factory - everything is taken care of and any problems are resolved quickly. The penetration testing performed recently on our dedicated server was excellent and we are very happy with the level of security and monitoring provided.
"When we partnered with PEER 1 Hosting to launch an app back in March, we needed the hosting infrastructure delivering yesterday and they basically did that – it was ready to go almost immediately."
Amanda Dunn, Director of Business Development EMEA, PEER 1 Hosting said: "It is exciting for us to be an important part of the launch and growth of an exciting new company operating in a rapidly growing sector and delivering technology to big global brands."
About PEER 1 Hosting
PEER 1 Hosting is one of the world's leading IT hosting providers. The company is built on two obsessions: Ping & People. Ping, represents its commitment to best-in-breed technology, founded on a high performance 10Gbps FastFiber Network™ connected by 20 state-of-the-art datacenters, 22 points-of-presence and 10 colocation facilities throughout North America and Europe. People, represents its commitment to delivering outstanding customer service to its more than 13,000 customers worldwide, backed by a 100 percent uptime guarantee and 24x7x365 FirstCall Support™. Info-Tech Research Group named PEER 1 Hosting as a "Champion" in its Canadian colocation and managed services Vendor Landscape report, recognizing the company's strength in product offerings and enterprise strategy in the global IT marketplace. PEER 1 Hosting's portfolio includes Managed Hosting, Dedicated Servers, Colocation and Cloud Services. Founded in 1999, the company is headquartered in Vancouver, Canada, with European operations headquartered in Southampton, UK. PEER 1 Hosting shares are traded on the TSX under the symbol PIX. For more information visit: http://www.peer1hosting.co.uk.