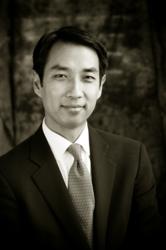 Redlands, California (PRWEB) August 30, 2012
Justin S. Kim, a June 2012 Candidate for the U.S. Congress from the 31st Congressional District has joined the Redlands, California civil trial law firm of Welebir Tierney & Weck, APLC.
Mr. Kim comes to the firm from an already distinguished career in Washington, D.C. and possesses a stellar academic history. He graduated in 2001 from Pacific Union College with a Bachelor of Science, summa cum laude, in both Business Administration and History and Government. Contemporaneously he earned a Bachelor of Arts, summa cum laude, in Chemistry. He received Honors for the highest grade point average in both the Chemistry and History Departments.
In 2004 he graduated from the Law School at Yale University where he participated in Moot court and served as Senior Editor of the Yale Law Journal, and as the Editor of The Yale Journal of International Law.
From September, 2004 to September, 2005 he served in the prestigious position of Law Clerk to the Honorable Virginia A. Phillips, Judge, U.S. District Court, Central District of California, in Riverside, California preparing bench memoranda and tentative orders on civil motions. He also assisted with civil and criminal trials; and, efficiently managed the motions calendar in one of the busiest districts.
From October 2005 to November 2009 he served as a Trial Attorney, in the Civil Trial Section of the United States Department of Justice, Tax Division, Washington D.C. There he handled more than 60 cases representing the United States in civil tax matters before U.S. District Courts throughout the United States. He successfully litigated a $1.1 billion tax shelter case of first impression. He received Outstanding Attorney Awards in 2007 and 2009 and held top secret clearance.
Following his service in the Department of Justice he was a Legal Fellow on the Subcommittee on Contracting Oversight of the U.S. Senate Homeland Security & Governmental Affairs Committee. He then served as Counsel to the U.S. Senate Impeachment Trial Committee related to the Impeachment of U.S. District Judge G. Thomas Porteous for one year. In April 2011 he became Counsel on the Democratic Staff of the U.S. House of Representatives Committee on Oversight and Government Reform.
Mr. Kim brings his considerable talents to the Product Liability and Business Tort/Complex Business Litigation/Tax, Trademark and Copyright Litigation division of the firm and will represent clients involved in Federal Agency Investigations.