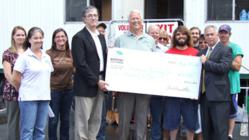 Albany, NY (PRWEB) August 28, 2012
One year ago, homes and businesses in Schoharie County were devastated by the raging floods brought on by Hurricane Irene. Out of this tragedy came great generosity as volunteers dedicated countless hours to help their friends and neighbors.
Schoharie Recovery, Inc. (SRI) is a not-for-profit organization that was formed to assist storm victims in Schoharie, Esperance, Gallupville and Central Bridge. The group relies on donations to continue its mission. On Aug. 28, CDPHP and the Hudson Mohawk Road Runners Club (HMRRC) presented a $10,000 check to SRI.
The organization was one of two local not-for-profits selected as a "Charity of Choice" by the CDPHP Workforce Team Challenge that benefits from monies raised from the race.
"The rebuilding in Schoharie County is truly a community effort," said John D. Bennett, MD, president and CEO, CDPHP. "With this donation, I am very proud that CDPHP and the Workforce Team Challenge can be a part of the recovery."
"Progress has been made, but there is still a distance to travel in the recovery. It will take several more years to heal the damage," said Schoharie Recovery, Inc. Chairman John Poorman. "Schoharie Recovery is very grateful for the help that will be provided by the gift from the CDPHP Workforce Team Challenge as a 2012 Charity of Choice of the Hudson Mohawk Road Runners Club."
Poorman said the $10,000 will be used wherever it is needed most – from purchasing building materials to reimbursing property owners to providing a variety of services.
"The materials, equipment and services that this funding will provide will go a long way," said Mike Rabideau, CDPHP Workforce Team Challenge race director. "The event committee, volunteers and runners are extremely pleased to support this vital organization."
About CDPHP®
Established in 1984, CDPHP is a physician-founded, member-focused and community-based not-for-profit health plan that offers high-quality affordable health insurance plans to members in 24 counties throughout New York. CDPHP is also on Facebook, Twitter, or LinkedIn.