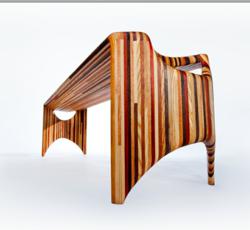 Our unique pieces can't be found anywhere else and now they're at unbeatable prices. You can't miss out on this sale!
San Francisco, CA (PRWEB) August 29, 2012
San Francisco modern furniture designer John Dufficy of Dufficy Design is moving out of his Market Street furniture showroom soon, giving interior design aficionados the chance to nab some of the most unique furniture designs available for a great price. The Dufficy Design moving sale begins at 6 pm on Thursday, August 30, 2012 at 2164 Market Street, and will feature up to 70% off select items.
"While leaving our Market Street location might be sad for us, it's great news for you," said John Dufficy. "Our unique pieces can't be found anywhere else and now they're at unbeatable prices. You can't miss out on this sale!"
Dufficy Design features handcrafted furniture, designed for versatility and reliability with timeless style. The benches, tables, chairs, and even the custom doors designed by Irish carpenter John Dufficy are unique artistic additions to any room.
About Dufficy Design
John Dufficy is a self-taught furniture maker and skilled carpenter from Ireland who handcrafts one-of-a-kind, custom furniture pieces from wood. Dufficy's furniture design process is unique. He blends different species of wood, through composite building, to create distinctive modern furniture that complements nature as it emulates it, with multiple inlays and gentle curved lines. John Dufficy works closely with his clients to design spectacular custom furnishings that fit their individual space, style and budget.
John Dufficy designs and creates his furniture from different species of wood that are blended together through composite building, which gives the piece multiple inlays and gentle curves lines that complement and emulate nature.
Also specializing in custom furniture designs, Dufficy will be available during the sale to discuss any interior design or custom carpentry needs he can fill. His ability to blend natural textures with modern lines is unprecedented, and his love for art and design show through every piece.
Clients can learn about the building process and materials used to make the furniture, and they can purchase a pre-made piece or commission the artist to create custom pieces. Visit Dufficy Design to explore custom furniture options and gain inspiration from a man who has perfected the art of furniture design.
For more information about the Dufficy Design moving sale or any of the furniture designer's pieces, call 415.756.9750 or visit http://www.dufficydesign.com.