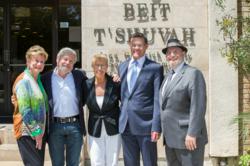 I applaud Beit T'Shuvah's tremendous contribution to the Jewish community and beyond. I look forward to forging a lasting, meaningful relationship with this wonderful organization." says Consul General Siegel
Los Angeles, CA (PRWEB) August 29, 2012
In a testament to the forward thinking vision of the Israeli Consul General… Mr. David Siegel visited and toured Los Angeles based treatment facility Beit T'Shuvah - whose significant and soul- saving work is vital to the Jewish community and the community at large. The Consul General's visit, the first of it's kind, is a historical and humbling event in the history of the facility.
"For the dispossessed and oppressed of Europe, Israel was a homeland. For the lost souls of the Jewish community, Beit T'Shuvah is a homeland and an opportunity for a new life," says Rossetto.
A necessary de-stigmatization of addiction in the Jewish community has been a driving force behind Rossetto and COO, Head Rabbi Mark Borovitz's efforts. However unpopular the cause, both believes it is imperative to transcend societal judgments, and face the problem head on.
Opening it's doors 25 years ago, Beit T'Shuvah is the only treatment center in the country that combines Jewish principles, psychotherapy, and the 12 steps of Alcoholics Anonymous and in doing so, countless lives have been saved.
There has since been tremendous growth. Currently there are 150 residential treatment beds, a Temple that offers weekly Shabbat services and High Holy Day services, annual birthright trip, a youth outreach prevention center and a career center geared towards helping residents enter or re-enter the workforce. It also has a creative arts program with a fully equipped recording studio, two social ventures- a not for profit marketing company BTS Communications and two BTS Thrift Boutiques.
The success Beitt T'Shuvah has had in helping people to recover their passion and discover their purpose is apparent when looking at their wait-list, averaging three months. An impossible demand to be met without further expansion, the organization kicked off their capital campaign in the spring of 2012.
Beit T'Shuvah has never turned anyone away and remains in keeping with its original mission: to help any individual who is seeking it regardless of his or her ability to pay.
"Visiting Beit T'Shuvah and experiencing the miracles taking place there on a daily basis was a humbling experience. Their out-of-the box approach to healing makes them a leading social innovator in the community. Coming from Israel, a country that prides itself on healing communities both in Israel and around the world, I applaud Beit T'Shuvah's tremendous contribution to the Jewish community and beyond. I look forward to forging a lasting, meaningful relationship with this wonderful organization."