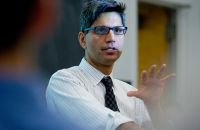 In this complex, volatile world the only thing one can always control is one's attitude.
(PRWEB UK) 30 August 2012
As Mitt Romney enters the arena as a potential future world leader, Professor Wadhwa's deep insights into the leadership characteristics of Abraham Lincoln are particularly apposite.
"In this complex, volatile world the only thing one can always control is one's attitude" says Prof Hitendra Wadhwa of Columbia Business School and founder of the Institute for Personal Leadership.
Wadhwa takes an empirical and personal approach to leadership behaviour. Previously great personal leadership wisdom has come from the prophets and saints; philosophers; and more recently a panoply of self-help gurus, but Wadhwa's work moves from 'faith-to-fact' drawing on the recent advances in neuroscience, psychology and psychotherapy and marrying that with academic research into the behaviour of great historical leaders.
Wadhwa's Personal Leadership approach "makes you operate as your "best self", so that you can approach the epic and everyday moments of leadership in the optimal manner despite the stress and strain of work and life. There are five elements to this" he says "(a) Purpose – a strong sense of direction in life and leadership, (b) Wisdom – a mastery over your thoughts, emotions, and beliefs, (c) Self-Awareness – an understanding of your inner core, (d) Love – a deep connection with people, and causes, and (e) Growth – a capacity to continually assess yourself and grow."
He observes that many great leaders have cultivated certain 'powers' that have enabled them to rise beyond what most people can achieve, and he contends that recent scientific findings allow us all to draw upon these to enable us to achieve our potential more fully.
The likes of Churchill, Gandhi, Lincoln, Martin Luther King Jr and Nelson Mandela all had the 'power of dreaming the impossible'. That is they were able to envisage outcomes that might have seemed unreasonably distant and unachievable to others – and allied this with their 'power of purpose in life' that both inspired themselves and those around them.
President Lincoln famously appointed Edwin Stanton as Secretary of War during the US Civil War. Stanton and Lincoln had worked together before, and Stanton had frequently been dismissive and cynical of Lincoln, but Lincoln recognised Stanton's abilities and rose above their personal differences to appoint him. Then once, Secretary of War Stanton refused to follow a presidential command and added to this by calling the President 'a damn fool'. When Lincoln was informed about this, he exclaimed, "He called me a damn fool?" "Yes! Not once, sir, but twice!" replied the excited congressman who had brought him this news. "Well, Stanton speaks what is on his mind, and he is usually right about what he speaks, so if he called me a damn fool, I must be a damn fool. I will go to him now and find out why," Lincoln's reaction, Wadhwa notes, was both humble and great leadership. Rather than over-ruling Stanton and imposing his authority, he was able to stand back and acknowledge that he had appointed Stanton for his clarity of thought, and to open his mind up to challenging his own decision.
This is a great expression of Personal Leadership claims Wadhwa. To be an exceptional leader you "need to be both flexible and at the same time, centred and grounded – anchored in a sense of direction and purpose….great leaders need to have the capacity to be both adaptive and resilient and to surround this ability around a stable core, an inner anchor."
About IEDP
IEDP is an independent publisher of specialist information for leaders and leadership development professionals in large organizations, focusing on the latest developments, ideas and best practice being delivered by the world's premier business schools and consultancy firmss. Its free to access database helps companies select open courses, custom programs and top providers of executive development solutions. IEDP experts also advise companies on appropriate executive development options and strategies. In its 'Developing Leaders' magazine and through its blog posts IEDP publishes insightful articles from the thought leaders of the executive and leadership development world. Learn more at http://www.iedp.com