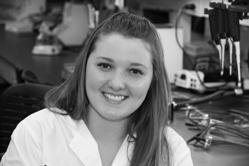 I get so much great experience in the lab and really get a leg up in my education. When I need letters of recommendation from my professors that they'll have confidence in me because they've seen me do the things research scientists need to do.
Salt Lake City, UT (PRWEB) August 28, 2012
Desiree Gates is going to Strasbourg, France. She will be the only community college student there to present a paper at The First World Congress on Biostimulants in Agriculture. Gates, a Salt Lake Community College (SLCC) graduate, is going because of her research conducted on gene expression in plants treated with environmentally friendly agricultural nutritional products developed and manufactured by Cytozyme Laboratories, Inc. a Utah-based company specializing in advanced plant nutrition technologies.
InnovaBio is a partnership between SLCC and private corporations that offers benefits to both the regional companies and the students who participate. The program is able to offer an environment for life science companies that are interested in developing new products or exploring new ideas. Using the College's state-of-the-art biotech laboratory, qualified scientists and student interns, InnovaBio gives companies access to real molecular biology expertise and gives students the chance to do challenging, real-world research.
Cytozyme contacted SLCC's InnovaBio program to study how the company's products work on a molecular level and what metabolic processes are stimulated in the plants after application of the products.
Students looked at 27,000 genes for the project. Of those 27,000, Cytozyme's products up-regulated 21 genes related to plants' ability to resist things like fungal or bacterial infections and withstand difficult environments like drought or extreme temperatures. This finding confirmed on a molecular level previous observations that Cytozyme' products help crops better withstand various adverse growing conditions.
Finding these results and documenting them is what got Desiree Gates and InnovaBio director Adam Blaszczak an all-expenses paid trip to France this fall.
Gates started studying biotechnology at age 17 in the Jordan Applied Technology Center. The center is a high school program offered by Utah's Jordan School District that gives high school students the opportunity to take a demanding slate of courses across several new programs in a molecular biology facility located on Salt Lake Community College's Jordan Campus. These programs were selected to align with the careers and occupations currently in-demand—or most likely to be in demand in the near future—like biotechnology, engineering, professional piloting and many fields in the health sciences.
A model for the kind of career arc provided by the Jordan Applied Technology Center, SLCC and UVU, Gates has already earned an associate degree and willbegin courses at Utah Valley University in the fall. She will be working in the same facility, using the same advanced equipment and techniques to perform new experiments, and interacting with many of the same students as she works toward her bachelor's degree.
After an intern first saw a surprising result in the Cytozyme project, the team of young scientists didn't quite know what to make of it. "At first, I honestly thought it was contamination," Gates said. But after a lot of research and more experiments that got the same results, the team concluded that it wasn't contamination but was a novel finding that demonstrated and confirmed on a molecular level how Cytozyme' products work.
These results obtained by Blaszczak, Gates and their team working in collaboration with scientists from Cytozyme and University of Arizona, will be presented at the Strasbourg conference in two independent sessions. Gates will be presenting portion of results on abiotic stress in a poster titled "Effect of Biostimulants Containing Fermentation Metabolites and Nutrients on Plant Response to Abiotic Stress". Blaszczak will be presenting results on biotic stress in an oral presentation entitled "Stimulatory Effects of Fermentation Metabolites on Plant Defense Response to Biotic Stress and Their Impact on Crop Production".
After the conference, Gates will resume her studies. "I get so much great experience in the lab and really get a leg up in my education," Gates said. "I know that when I need letters of recommendation from my professors that they'll have confidence in me because they've seen me doing so many of the things research scientists need to do in their careers."
About the College: Salt Lake Community College is an accredited, student-focused, urban college meeting the diverse needs of the Salt Lake community. With more than 62,000 students enrolled each year, the College is the largest supplier of career and technical education programs in the State of Utah. The College is the sole provider of applied technology courses in the Salt Lake area, with 13 sites, an eCampus, and nearly 1,000 continuing education sites located throughout the Salt Lake valley. Personal attention from an excellent faculty is paramount at the College, which maintains a student-to-teacher ratio of less than 20 to 1.