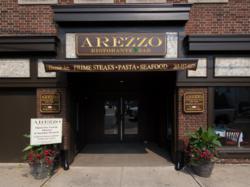 Westport, CT (PRWEB) August 28, 2012
The owners of the Arezzo Ristorate in New York City are pleased to announce the opening of their newest restaurant on the Saugatuck River at 5 Riverside Ave. in Westport, Connecticut.
Arezzo Ristorante's features a beautiful dining room with warm rustic decor and LED ambient lighting that adds to the luxurious environment, as well as a breathtaking outdoor waterfront seating with a river view. Using the finest ingredients imported straight from Tuscany, the new restaurant serves prime steaks, seafood, and pasta with an authentic northern Italy influence and a full Italian wine list.
Owned and operated by the same owners of Arezzo Ristorante in New York City, the new 3,200-square foot Italian restaurant, which has received raving reviews from both Zagat's and the New York Times, has seating for 80 diners in the main dining room and 40 diners outside on the patio along the river. The outdoor dining terrace, which is downtown Westport's only riverside dining patio, will also function as an event venue for weddings, Bar Mitzvahs, corporate functions and any special occasion.
"The restaurant will be a great addition to the Westport dining scene," said Alon Panovka, a lawyer who represents Ansley Westport Riverside LLC, the Atlanta-based firm that owns Riverside Corners. Open seven days a week, Arezzo will serve lunch six days a week, Sunday brunch from 11 a.m. to 4 p.m., and Sunday dinner from 4 p.m. to 10 p.m. Valet parking is also available for Arezzo Ristorante guests. For further information or to make a reservation, call Arezzo Ristorante at (203) 557-9375.
About the company:
Arezzo Ristorante and Bar, offer regional cuisine and wine on the Westport waterfront. Co-owners Daniel Saat and Adele Deslinnocenti, previous establishments have received the highest of accolades from Zagats, the New York Times, and Bon Apetit magazine. Check in on them often to catch one of their unique Wine Pairing Dinners, where the entrees are specially selected to the evening's wine, or a Wine Maker's Dinner, when the creator of the wine chooses the night's dishes. For a elegant night to remember choose Arezzo Ristorante! 5 Riverside Avenue, Westport, CT, 06880. (203)557-9375. For more information visit their website at http://www.arezzowestportct.com.