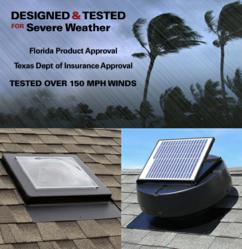 U.S. Sunlight's alternative energy products improve a home's energy efficiency, reduce utility bills and will hold up against the toughest weather conditions. Take advantage of the 30% Federal Tax Credit and local municipality and utility rebates.
Incline Village, NV (PRWEB) August 29, 2012
As many builders and remodelers are aware, it is imperative to install green, energy efficient products that have been tested to stand up to the toughest conditions. U.S. Sunlight's mission is to provide "alternative energy for everyday life." All U.S. Sunlight products have been engineered by home improvement industry experts and designed to improve the energy efficiency of new and renovated homes. In addition to the products' basic functions to reduce a home's carbon footprint, U.S. Sunlight understands the quality of their products must withstand the test of time and through the harshest weather conditions. The solar panels on the Solar Attic Fans are impact resistant to hail damage, the shrouds are made of construction-grade ABS to resist fading, denting and cracking and the flashing is over-sized for leak-proof installation. The U.S. Sunlight Skylight Tubes use a polycarbonate exterior dome, the same material used for motorcycle windshields, is 250 times stronger than the industry-standard acrylic. In addition, the snow load has been tested up to 250 psf without any structural damage and has also tested for 0 water infiltration.
U.S. Sunlight has taken the necessary steps to ensure builders are able to install these home improvement products anywhere in the country, by receiving approval from regions requiring a strict compliance to building codes to protect homeowners. Florida is one such state with strict building codes. Prone to hurricane conditions, the Florida Building Commission has established a set of codes to protect Florida residents and their homes. When hurricanes occur, the pressure differential from the interior of the home to the exterior can cause roof-mounted objects to become airborne due to high wind speeds and the resulting uplift pressures. Most recently, the 2010 Florida Building Codes, the first revision since 2007, has even more stringent regulations for wind pressure.
In 2011, U.S. Sunlight submitted the entire line of roof mounted Solar Attic Fans and Skylight Tubes to the Florida Building Commission for approval and complied with the 2007 Florida Building Commission's standards. Now in 2012, U.S. Sunlight has also received approval from the Florida Building Commission and complies with the 2010 Florida Building Codes (Solar Attic Fans FL #14564 and Skylight Tubes FL #14561).
CEO Geoff Foreman states, "U.S. Sunlight's alternative energy products improve a home's energy efficiency, reduce utility bills and will hold up against the toughest weather conditions. Take advantage of the 30% Federal Tax Credit and local municipality and utility rebates to have a rapid return on investment. Take care of your home, your pocketbook and the environment with U.S. Sunlight's full line of award winning home improvement products."